About Chiddingfoldnews.org.uk bottom of page
MusicContacts Archive Whats On Emergency
Police Reports Tipteerers Life StyleMOBIL Web
Chidd News You Tube Channel
---
You Tube Streaming



Royal Opera House

Andrew Lloyd-Webber
Free Streaming of Musicals

National Theatre
Free Live Streaming of Plays

Chiddingfold Cinema Cinema details
October 4, 2020

AGREED MOVE DATE FOR CHIDDINGFOLD POST OFFICE, OPEN DAILY & EXTENDED HOURS
· Move to Robert Stores, Petworth Road, Chiddingfold
· Modern retail environment
· Open seven days a week
· Opening hours would more than double
· Convenient, quick service, modern retail environment
· Customers of main UK banks can access accounts at new branch
· Services include bill payment, cash withdrawals and foreign currency, postage, home shopping collections and returns
The Post Office has agreed a date next year to relocate Chiddingfold Post Office to Robert Stores, Petworth Road, Chiddingfold, Godalming, GU8 4UF.
The move is with the agreement of the current Postmaster. The current branch at Pockford Road, Chiddingfold, GU8 4TP will close on Saturday 20 February at 12.30pm, with the new branch opening on Monday 22 February at 1pm.
During that time alternative branches will include:
· Haslemere Post Office, 3 West Street, Haslemere, GU27 2AF
· Hambledon Post Office, The Cricket Green, Hambledon, Godalming, GU8 4HF
· Milford Post Office, Portsmouth Road, Milford, Godalming, GU8 5DS
Post Office services will be provided from a Post Office serving point alongside the retail counter of the convenience store and will be available during shop opening hours.
The Post Office opening hours will be significantly extended. The new opening hours will be Monday to Saturday: 6am – 7pm; Sunday: 8am – 2pm.
This will be more than 44 extra hours of Post Office service a week including Sundays, plus Wednesday and Saturday afternoons. The branch will also open significantly earlier and it will close much later. It will also mark an end to lunchtime closing.
The same wide range of products and services will still be available.
---
September 2, 2020

Update from the Chiddingfold Bonfire team
Next Bofire is Saturday 6th November 20
21
Dear Fellow Villagers,
Our team would firstly like to extend our best wishes to everyone in the village and to say that we hope as many of you as possible have been able to see some semblance of normal life gradually returning as we slowly emerge from lockdown.
When Covid19 arrived to affect all our day to day lives the Bonfire Committee and our 'Helping Hands' team of volunteers were keen to help around the village in any way could, alongside the many other village groups and helpers who have sought to assist those in need during these extraordinary past few months.
We have been proud to play a small part in this wonderful collective effort, firstly by organizing the distribution each Wednesday during the first few months of lockdown of the food orders being delivered into the village by Farncombe Fresh Foods.
We have also been pleased to support Monica and Amit at Roberts Stores by making deliveries every Saturday during lockdown to any of their customers having to shield at home or who simply couldn't get to the shop to themselves. As lockdown gradually eased we realized that some of the recipients of these deliveries were still needing to stay at home and so our team did a Zoom get together and unanimously agreed that we will continue to make these deliveries for as long as people need us to do so.
As we reach September the thoughts of the Bonfire team would normally be turning to getting preparations for Bonfire Night underway. Indeed some of our plans for 2020 started months ago because the records in our Bonfire archive indicated that, to the best of our knowledge, November 2020 would be the 180th year of the Chiddingfold Bonfire so we were keen to make sure we could put on the best possible village event for everyone to enjoy!
Once the true impact of the pandemic became clear we realized we would need to take all possible precautions about the staging of this year's event but remained hopeful it would be able to go ahead. In late July our hopes were raised as the Government indicated some initial public outdoor test events would be staged with a view to this leading to more such events, including ones such as our annual November celebration, being able to take place.
However, those test events were pushed back and so we felt we needed to make an early decision about the 2020 Bonfire, with the health and well-being of our village and our wonderful community central to our thoughts. As we moved in to August it became clear to us that to stage our event this year would represent a risk of bringing the virus in to the village, especially in light of it being popular each year with visitors from outside of Chiddingfold. So, it was with a heavy heart that we decided that it would not be right for us to stage the event this year. We are sorry for the disappointment this will bring to all those, young and old, who enjoy it each November and who show their support by way of the money spent on the night and donated through our collecting buckets. As many of you will know, the money collected in those buckets is turned in to vouchers that we then deliver to all village residents over the age of 70 which they can then spend in the various shops and businesses in the village. Last year we were delighted to be able to make each voucher worth £45 and we know many recipients look forward to receiving and spending them in the run up to Christmas, and we in turn are pleased that the spending of those vouchers benefits our local business owners. We have decided, therefore, that even though our next Bonfire night celebration will now be in November 2021 we will still distribute a voucher to all our usual recipients this year. The amount will be lower than last year, but we felt it was important to keep up this long-held tradition and to still make a distribution to everyone. If we can, we will also help those other Organisation's around the village to whom we also make donations each year from any surplus that is made after the vouchers and our running costs have been covered. If our reserves don't enable us to make a cash donation our support for them this year may, however, be by way of offering our services if they have any projects they think our team can help with. This then leads us on to the final point we wanted to mention, and that is how our team plan to use the time that would normally be spent each Saturday building the bonfire. We all really enjoy those Saturday mornings, including when the weather is being unkind, as they are usually filled with a lot of laughter and great camaraderie (helped each week by generous mid-morning servings of bacon sandwiches from the team at The Crown followed by a rehydrating beverage or two at lunchtime!). So in the absence of a bonfire to build we still plan to make each week between early October and the start of November a 'Bonfire Helping Hands Saturday' where we will willingly carry out any useful jobs or projects that may need doing around the village (followed of course by that refreshing beverage at lunchtime). If anyone has any thoughts or ideas about projects we can help with please let us know via the Bonfire website or Facebook page. We would also love to welcome any new volunteers who may be interested in joining us – anyone is welcome and, again, just get in touch via the website or Facebook or by speaking with any of our current team that you may know. In closing we would like to thank all of you in our wonderful village who have supported the Chiddingfold Bonfire over so many years, and to assure you that our Bonfire and Fireworks will be back for everyone to enjoy in 2021. Please continue to stay safe and look out for each other.
Best wishes.
Simon Manuel
Chairman, Chiddingfold Bonfire
E-mail from Chiddingfold Bonfire Committee dated Friday 25 August 2020
Link to Official bonfire web site

Chiddingfold Bonfire
Bonfire 2017 You Tube video of Bonfire Night 2015
---
March 16, 2020
Several of the films coming up may be in high demand, so please remember if you want to guarantee your seats for the screening, and be sure to arrive promptly to ensure you get first pick of the available seats. YOU CAN SAVE MONEY WITH OUR SEASON TICKETS.
Village Hall Cinema tickets + info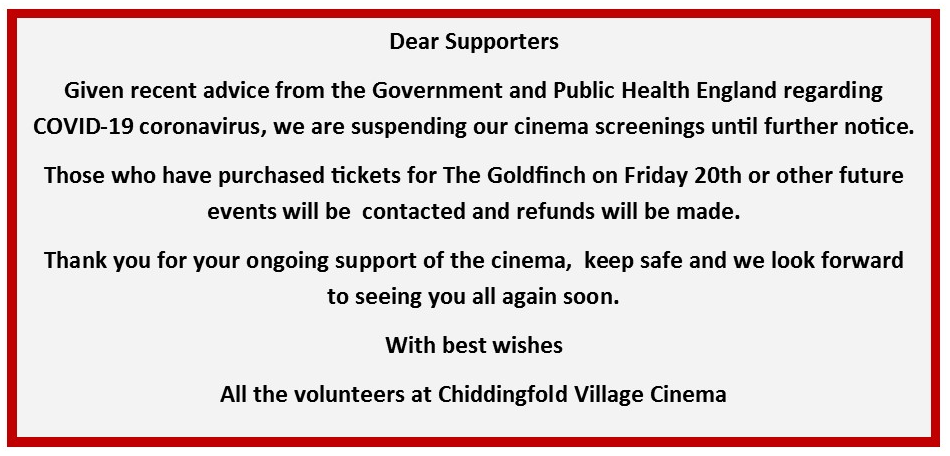 You Tube Streaming



Royal Opera House

Andrew Lloyd-Webber Free Streaming of Musicals

National Theatre Free Live Streaming of Plays



Details
Chiddingfold Cinema Latest News
---
Postponed
Knives Out Friday, April 3rd 8:00 pm Cert 12A
When renowned crime novelist Harlan Thrombey (Christopher Plummer) is found dead at his estate just after his 85th birthday, the inquisitive and debonair Detective Benoit Blanc (Daniel Craig) is mysteriously enlisted to investigate. From Harlan's dysfunctional family to his devoted staff, Blanc sifts through a web of red herrings and self-serving lies to uncover the truth behind Harlan's untimely death. With an all-star ensemble cast including Chris Evans, Ana de Armas, Jamie Lee Curtis, Toni Collette, Don Johnson, Michael Shannon, LaKeith Stanfield, Katherine Langford and Jaeden Martell, KNIVES OUT is a witty and stylish whodunit guaranteed to keep audiences guessing until the very end.


MR. JONES Thrusday, April 16th 8:00 pm Cert 15
MR. JONES brings to the screen the extraordinary and powerful story of the real-life Welsh journalist who uncovered Stalin s genocidal famine in Ukraine, which killed almost 10 million. 1933. Gareth Jones (James Norton, Happy Valley, McMafia) is an ambitious Welsh journalist who gained fame after his report on being the first foreign journalist to fly with Hitler. On leaving a government role, Jones decides to travel to Moscow in an attempt to get an interview with Stalin himself. Hearing murmurs of government-induced famine, Jones travels clandestinely to Ukraine, where he witnesses the atrocities of man-made starvation. Deported back to London, Jones publishes an article revealing the horrors he witnessed but is accused of being a liar by those who have an interest in silencing him. As the death count mounts, Jones has to fight for the truth... MR. JONES also stars Vanessa Kirby (The Crown) and Golden Globe® Nominee Peter Sarsgaard (Jarhead). A gripping and compelling film.
∫ ∫ ∫ ∫ ∫ ∫
Save £5 with a Season Ticket. Season Tickets can be used to obtain a discount – we simply stamp three slots rather than the usual one, so a pair of ticket costs just £25. If you don't already have one (and why not?!) then buy one now and take advantage of the £5 saving immediately. We expect demand to be high, so book now to avoid disappointment! For further details, especially any advance ticket enquiries or if you are interested in joining us as a volunteer, please contact Matthew Lacey on 01428 683120, or email cinema.admin@chiddingfold-hall.org.uk That's all for now, hope to see you at a screening soon!
Tickets for each film, (except 'Pay What You Like') cost £6 (£3 for children under 15) on the door, Season Tickets are also available.
Tickets for each film cost £6 (£3 for children under 15) on the door,
Season Tickets are also available.

Licensed Bar & refreshments before showing and in interval
A Channel 5 production company came to Chiddingfold Village Hall Cinema on Thursday night, 5 February
to film the Sing-along production of 'Mamma Mia'
The Village Hall Cinema attracted a good crowd from all around Chiddingfold for this performance.
It was a lively evening with lots of singing and even dancing - More
Village Hall
Coxcombe Lane,
Chiddingfold, Surrey GU8 4QA www.chiddingfold-hall.org.uk/
Village Hall
---
November 24, 2011

If anyone phones you up about problems with your computer
Read this
http://forums.moneysavingexpert.com/showthread.php?t=1424731
---
The Air Ambulance service in Kent, Surrey and Sussex costs around £ 3 million annually to stay airborne. Receiving no funding from the Government or the National Lottery the charity is entirely dependent upon the generosity of the public to support the two helicopters, based at Marden and Dunsfold.
October 18, 2011
Two new specialist doctors have joined life-saving charity the Kent, Surrey and Sussex Air Ambulance Dr Magnus Nelson was born in Canterbury, grew up in Wingham and went to Sir Roger Manwoods School in Sandwich. He joins the charity on a six-month secondment from the Royal Sussex County Hospital in Brighton Dr
Mark Salmon joins the trust on a 12-month secondment after also working at St George's where he qualified in 2003.

More on The Air Ambulance
Surrey Air Ambulance is a charity which relies almost entirely on public donations and receives no National Lottery funding.
The helicopter carries a specialist doctor and Critical Care Paramedic who can carry out advanced medical procedures at the scene, giving patients the best chance and quality of survival.
---
International News
What is happening in the middle East!
---
Help needed at Lunch Club!

Could you help us once a month on a Friday?
We are seeking volunteers to help lay tables, serve and clear away for our over 60's Lunch Club
from 10.30am to about 2pm with lunch included.
It is rewarding and friendly and we are happy to work around the school term times.
You are more than welcome to come and see how we do it all with no obligation.
Just contact Georgia on 68 3120 or email for more details.
---


***************************************************************************************************************

---

…and finally
If you do run into debt problems, don't ignore them and hope they will go away - they won't.
Get advice as early as possible. See the Citizens Advice website,
www.adviceguide.org.uk on how
confidential, independent money advice.
www.adviceguide.org.uk
---
I've written many pieces in our Parish magazine about our bells;
at St Mary's Chiddingfold
John

.

By now I hope you appreciate that we have a very special legacy in these bells, and I do hope that the village is a much better place for having them. (It would be a very sad thing to NOT have them surely!)

However, I, and the other bell ringers, are mindful that our ringing is intrusive, (loud).
Despite our best efforts, there are occasions when the music is not at it's best, particularly when practice and learners are involved! Whilst we have some sound-control, the sound of the bells does reach parts that other music does not!

So I am asking the village, and anyone else affected, to let me know your views - More
---
About Chiddingfoldnews.org.uk
New Parish council web site www.chiddingfold-pc.gov.uk/ - Click Here
The idea is a local news magazine not in competition with the Parish Magazine
Parish Magazine
The Parish Magazine.
60p per copy, £7 annual subscription
Copy date 16th every month
except December,when it is 11th.
Parish Magazine
Parish council web site
www.chiddingfold-pc.gov.uk/ - Click Here


Don't Panic Chiddingfold does not have
heath / bush fires - Earthquakes - Tsunamis -
Only some parts of the village gets floods
In 1987 the electric was off for 10 days we managed
- More
---
December 3, 2010
For life-threatening emergencies please dial 999.
For immediate help with general local issues please contact the Parish Office:
T: 01428 683906
E: clerk@chiddingfold-pc.gov.uk
For general emergency information, please visit the Waverley Borough Council website -
http://www.waverley.gov.uk

---
To send stories or articles Contact us - see below
Articles preferred as attachments in Rich Text Format &nbsp &nbsp any pictures as separate attachments
For listing music events in the area,
mainly electric rock and blues
Originally what was on at
Chiddingfold Music Club
that web page is just a menu now
Old Music Page

Bands that have been listed here
or are booked in the future
Band details
Archive is where the old stories go
Pictures of Events that was news last year
Contacts is a list of organizations and businesses
in the village and phone numbers and e-mail addresses
some web pages
---