About Chiddingfoldnews.org.uk bottom of page
MusicContacts Archive Whats On Emergency
Police Reports Tipteerers Life StyleMOBIL Web
Chidd News You Tube Channel
---
---
November 28, 2019

PROPOSED MOVE FOR CHIDDINGFOLD POST OFFICE, OPEN DAILY & EXTENDED HOURS
Village Hall film show

Friday January 24th

Mrs Lowry & Son

Cinema details
Move to Robert Stores, Petworth Road, Chiddingfold
Modern retail environment
Open seven days a week
Opening hours would more than double
Convenient, quick service, modern retail environment
Customers of main UK banks can access accounts at new branch
Services include bill payment, cash withdrawals and foreign currency, postage, home shopping collections and returns
The Post Office is proposing to relocate Chiddingfold Post Office to Robert Stores, Petworth Road, Chiddingfold, Godalming, GU8 4UF.

Post Office services would be provided from a Post Office serving point alongside the retail counter of the convenience store and would be available during shop opening hours.

The Post Office opening hours would be significantly extended. The new opening hours would be Monday to Saturday: 6am – 7pm; Sunday: 8am – 2pm.

This would be more than 44 extra hours of Post Office service a week including Sundays, plus Wednesday and Saturday afternoons. The branch would also open significantly earlier and it would close much later. It would also mark an end to lunchtime closing.

The same wide range of products and services would still be available.

The move from Pockford Road, Chiddingfold, GU8 4TP would be with the agreement of the current Postmaster.

The Post Office is now inviting customers and interested parties to give their comments on the move in a public consultation and we are looking for feedback about accessibility, local community issues and anything that we can do to make life easier for our customers.
Consultation will close on 7 January 2020. Customers can share their views during the consultation online at postofficeviews.co.uk with the branch code 097923.
Submissions can also be made via email to by post to Freepost YOUR COMMENTS, or by telephone 03452 66 01 15 or Textphone 03457 22 33 55. by post to Freepost YOUR COMMENTS, or by telephone 03452 66 01 15 or Textphone 03457 22 33 55
Press Release recived Tue 26/11/2019 Issued by: Post Office Press Office 20 Finsbury Street LONDON, EC2Y 9AQ
---
November 16, 2019

**CHIDDINGFOLD SURGERY REOPENS**
We are delighted to advise you that we will be resuming services at Chiddingfold Surgery, Ridgley Road on
TUESDAY 26th NOVEMBER.
We are grateful to you all for your support and patience during this year.
OPEN AFTERNOONS Thursday28th November 3-6pm, Friday 29th November 2-5pm. ALL WELCOME.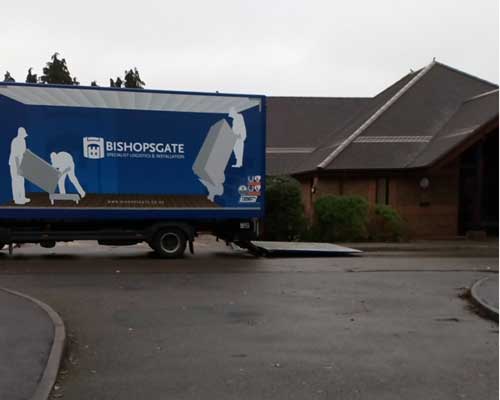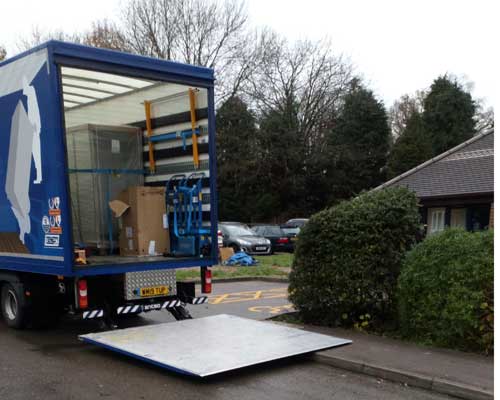 * * * *
February 26, 2019

Fire at the Chiddingfold Surgery
BACK ON OUR FEET
The Friends of Chiddingfold Surgery would like to extend their heartfelt thanks on behalf of all the Doctors and Staff for all the generous donations received for the Fire Appeal following the terrible fire in January at the surgery.
We have been able to fund the immediate purchase of a spirometer, 2 ambulatory blood pressure monitors and a defibrillator which are already in use at the new temporary home for the surgery at Milford Hospital. Further purchases will be made shortly as the doctors prioritise which of the equipment previously provided by FCS should be replaced immediately before the insurance claim is settled.
We all know that there is an element of uncertainty regarding the settlement of insurance claims and we fully expect that the Surgery will not receive payment in full for the entire extent of its claim when it is finally made. FCS is using the funds from the Fire Appeal to plug this gap now.
Should any funds remain after the insurance monies are received there will always be more equipment to be funded which will keep our surgery at the forefront of providing the first class service we have all become used to.
Simon Inchbald



https://friendsofchiddsurgery.org

Registered Charity No. 1080617
Press relase from The Friends of Chiddingfpld Surgery Recived February 22, 2019 put on website February 26, 2019
---
January 28, 2019

Chiddingfold Surgery re-locates to Milford Hospital site
The Chiddingfold Car-Go scheme can provide transport assistance to get to an essential appointment at one of the alternative Surgery locations.
Bookings can be made 10am 12pm, Monday to Friday via telephone ( 07899 340073 ).
PRESCRIPTION REQUESTS
Patients of the Chiddingfold Surgery are able to request repeat prescriptions via Boots Pharmacy in the Village.
Drop off your request form (or a note including name, address and the medications required) before 1pm at least 4 days in advance of when the prescription is required, to the pharmacy.
The surgery will be operating daily collections from the pharmacy and will be able to send the prescription electronically through to the pharmacy for collection (for all non-controlled medications).

Facebook search for keyword Chiddingfold Surgery



Facebook Friends of Chiddingfold Surgery



Facebook Chiddingfold Community Page

**** Chiddingfold Surgery Website ****


---
Message form the Doctors copied from Surgery website
Surgery update:
Thank you for everyones continuing support since the fire on January 7th.
In the middle of next week , we will be relocating to Cedar Ward , Milford Hospital. There will be full Dr and nurse surgeries on Cedar Ward going forward. We will also continue to have expanded opening hours at Dunsfold Surgery and we will update on these over the next few weeks.
We will be reinstating our dispensary service at Dunsfold and we will have a Dispensary at Milford Hospital so will be able to start dispensing to patients again over the next few weeks. The telephone number is as before 01428 683174.
Remember if transport is difficult , CarGo are able to help.
We have already started planning for the rebuild and have appointed our project managers. You will see further demolition of the Chiddingfold site in a couple of weeks IF YOU REQUIRE A DOCTOR IN AN EMERGENCY PLEASE TELEPHONE NHS111
---
August 1, 2019

SCAM WARNING
Criminals Targeting People With Universal Credit Scam
Action Fraud has received 63 reports about a scam in which fraudsters target people with offers of "low cost" loans or "free" government grants. What the victims aren't told is that the money they'll receive is actually an advance payment for Universal Credit. The criminals use the personal information they've obtain under false pretences to make an application in the victim's name. After the fraudsters have taken their "fee" from the advance payment, the victim is then left to pay back the total amount once their repayments begin.
How you can protect yourself:
Never share your personal or financial information with someone you don't know and trust, especially if it's in response to an offer of "free money" or a "free grant".
Department for Work & Pensions (DWP) staff will never approach you in the street or ask for your personal/financial details over social media.
If you have concerns about your benefits, you should visit  www.gov.uk/contact-jobcentre-plus
If you suspect your identity may have been stolen, you can check your credit rating quickly and easily online. You should do this every few months anyway, using a reputable service provider and following up on any unexpected or suspicious results.
---
---
December 18, 2019
Several of the films coming up may be in high demand, so please remember if you want to guarantee your seats for the screening, and be sure to arrive promptly to ensure you get first pick of the available seats. YOU CAN SAVE MONEY WITH OUR SEASON TICKETS.
Village Hall Cinema tickets + info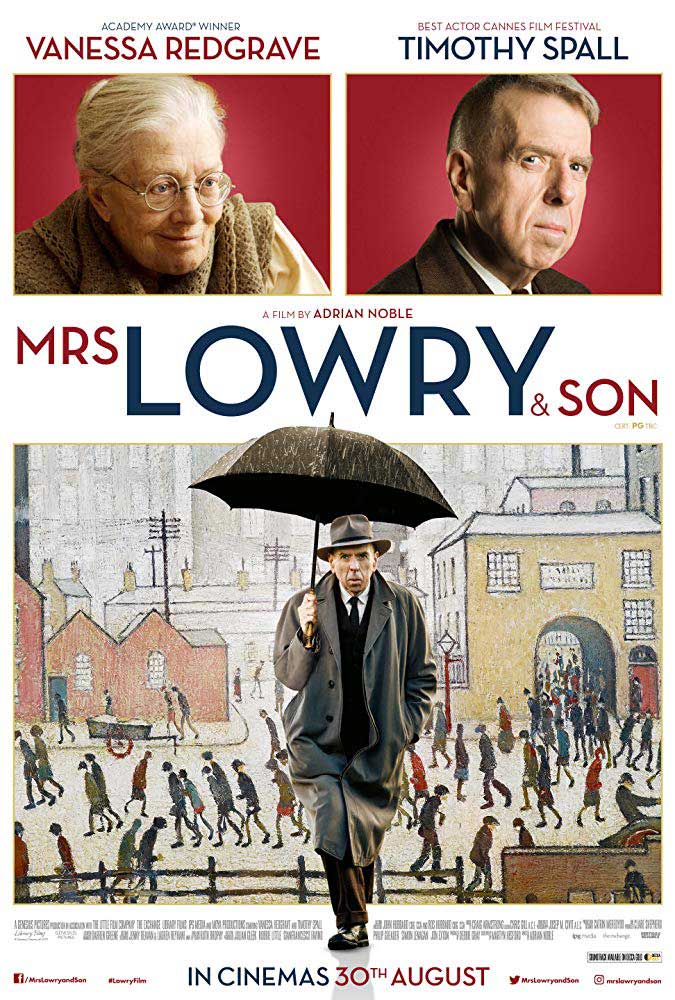 Friday January 24th
Mrs Lowry & Son


Doors 7·30 pm, Film 8·00pm
Running time: approx.- - minutes 151 (+ 15 minute interval)

BBFC Certification: PG



<!- Colin Firth as Reggie Turner -->


The story of beloved British artist L.S. Lowry (Timothy Spall) lived all his life with his over-bearing mother Elizabeth (Vanessa Redgrave).
Bed-ridden and bitter, Elizabeth actively tried to dissuade her bachelor son from pursuing his artistic ambitions, whilst never failing to voice her opinion at what a disappointment he was to her. An essay on family, and life, by two of our greatest living actors.


Adult Ticket Price £6
Child Ticket Price £3


---
Next Month
Downton Abbey Friday, Feb 7th 8:00 pm Cert PG
The continuing story of the Crawley family, wealthy owners of a large estate in the English countryside in the early twentieth century. Excitement is high at Downton Abbey when the Crawley family learns that King George V and Queen Mary are coming to visit. But trouble soon arises when Mrs. Patmore, Daisy and the rest of the servants learn that the king and queen travel with their own chefs and attendants -- setting the stage for an impromptu scheme and other shenanigans. Cast includes Hugh Bonneville, Elizabeth McGovern, Maggie Smith, Laura Carmichael, Michelle Dockery, Imelda Staunton, Tuppence Middleton, Joanne Froggatt, Brendan Coyle and many more.


Judy Friday, Febuary 21st 8:00 pm Cert 12A
Winter 1968 and showbiz legend Judy Garland arrives in Swinging London to perform a five-week sold-out run at The Talk of the Town. It is 30 years since she shot to global stardom in The Wizard of Oz, but if her voice has weakened, its dramatic intensity has only grown. As she prepares for the show, battles with management, charms musicians and reminisces with friends and adoring fans, her wit and warmth shine through. Even her dreams of love seem undimmed as she embarks on a whirlwind romance with Mickey Deans, her soon-to-be fifth husband. Featuring some of her best-known songs, the film celebrates the voice, the capacity for love, and the sheer pizzazz of "the world's greatest entertainer." Starring Renée Zellweger, Jessie Buckley, Rufus Sewell and Michael Gambon.
∫ ∫ ∫ ∫ ∫ ∫
Save £5 with a Season Ticket. Season Tickets can be used to obtain a discount – we simply stamp three slots rather than the usual one, so a pair of ticket costs just £25. If you don't already have one (and why not?!) then buy one now and take advantage of the £5 saving immediately. We expect demand to be high, so book now to avoid disappointment! For further details, especially any advance ticket enquiries or if you are interested in joining us as a volunteer, please contact Matthew Lacey on 01428 683120, or email cinema.admin@chiddingfold-hall.org.uk That's all for now, hope to see you at a screening soon!
Tickets for each film, (except 'Pay What You Like') cost £6 (£3 for children under 15) on the door, or in advance from Treacles Tea Room.
Season Tickets are also available from both locations
.
Tickets for each film cost £6 (£3 for children under 15) on the door,
Season Tickets are also available.

Licensed Bar & refreshments before showing and in interval
A Channel 5 production company came to Chiddingfold Village Hall Cinema on Thursday night, 5 February
to film the Sing-along production of 'Mamma Mia'
The Village Hall Cinema attracted a good crowd from all around Chiddingfold for this performance.
It was a lively evening with lots of singing and even dancing - More
Village Hall
Coxcombe Lane,
Chiddingfold, Surrey GU8 4QA www.chiddingfold-hall.org.uk/
Village Hall
---
November 24, 2011

If anyone phones you up about problems with your computer
Read this
http://forums.moneysavingexpert.com/showthread.php?t=1424731
---
The Air Ambulance service in Kent, Surrey and Sussex costs around £ 3 million annually to stay airborne. Receiving no funding from the Government or the National Lottery the charity is entirely dependent upon the generosity of the public to support the two helicopters, based at Marden and Dunsfold.
October 18, 2011
Two new specialist doctors have joined life-saving charity the Kent, Surrey and Sussex Air Ambulance Dr Magnus Nelson was born in Canterbury, grew up in Wingham and went to Sir Roger Manwoods School in Sandwich. He joins the charity on a six-month secondment from the Royal Sussex County Hospital in Brighton Dr
Mark Salmon joins the trust on a 12-month secondment after also working at St George's where he qualified in 2003.

More on The Air Ambulance
Surrey Air Ambulance is a charity which relies almost entirely on public donations and receives no National Lottery funding.
The helicopter carries a specialist doctor and Critical Care Paramedic who can carry out advanced medical procedures at the scene, giving patients the best chance and quality of survival.
---
International News
What is happening in the middle East!
---
Help needed at Lunch Club!

Could you help us once a month on a Friday?
We are seeking volunteers to help lay tables, serve and clear away for our over 60's Lunch Club
from 10.30am to about 2pm with lunch included.
It is rewarding and friendly and we are happy to work around the school term times.
You are more than welcome to come and see how we do it all with no obligation.
Just contact Georgia on 68 3120 or email for more details.
---

…and finally
If you do run into debt problems, don't ignore them and hope they will go away - they won't.
Get advice as early as possible. See the Citizens Advice website,
www.adviceguide.org.uk on how
confidential, independent money advice.
www.adviceguide.org.uk
---
I've written many pieces in our Parish magazine about our bells;
at St Mary's Chiddingfold
John

.

By now I hope you appreciate that we have a very special legacy in these bells, and I do hope that the village is a much better place for having them. (It would be a very sad thing to NOT have them surely!)

However, I, and the other bell ringers, are mindful that our ringing is intrusive, (loud).
Despite our best efforts, there are occasions when the music is not at it's best, particularly when practice and learners are involved! Whilst we have some sound-control, the sound of the bells does reach parts that other music does not!

So I am asking the village, and anyone else affected, to let me know your views - More
---
About Chiddingfoldnews.org.uk
New Parish council web site www.chiddingfold-pc.gov.uk/ - Click Here
The idea is a local news magazine not in competition with the Parish Magazine
Parish Magazine
The Parish Magazine.
60p per copy, £7 annual subscription
Copy date 16th every month
except December,when it is 11th.
Parish Magazine
Parish council web site
www.chiddingfold-pc.gov.uk/ - Click Here


Don't Panic Chiddingfold does not have
heath / bush fires - Earthquakes - Tsunamis -
Only some parts of the village gets floods
In 1987 the electric was off for 10 days we managed
- More
---
December 3, 2010
For life-threatening emergencies please dial 999.
For immediate help with general local issues please contact the Parish Office:
T: 01428 683906
E: clerk@chiddingfold-pc.gov.uk
For general emergency information, please visit the Waverley Borough Council website -
http://www.waverley.gov.uk

---
To send stories or articles Contact us - see below
Articles preferred as attachments in Rich Text Format &nbsp &nbsp any pictures as separate attachments
Home
News
Music
Contacts
Archive
This Page

Originally what was on at
Chiddingfold Music Club
that web page is just a menu now

For listing music events in the area,
mainly electric rock and blues
for music events

Bands that have been listed here
or are booked in the future
Band details

Contacts is a list of organizations and businesses in the village and phone numbers and e-mail addresses
some web pages

Archive is where the old stories go
Pictures of Events that was news last year