Febuary 8 2009
Chiddingfoldnews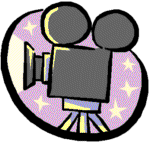 Mamma Mia: Where did it all go right?
A Channel 5 production company came to Chiddingfold Village Hall Cinema
on Thursday night, 5 February to film the Sing-along production of 'Mamma Mia!'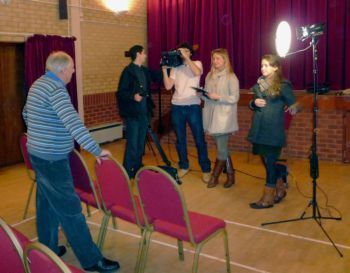 The Village Hall Cinema attracted a good crowd from all around Chiddingfold for this performance. It was a lively evening with lots of singing and even dancing.
The Village Hall needs funds to put towards the rebuilding of the kitchen which is in great need of expansion and refurbishment. The profits from Cinema evenings will go some way to achieving this.
Please support us to help with this costly project for your village hall.
The film 'Mamma Mia: Where did it all go right?' will be shown on Channel 5 on Wednesday, 25
Rob Terry vice-chair Chiddingfold Village Hall management committee
being interviewed by Paul Shenkin of Zig Zag productions
---
www.chiddingfold-hall.org.uk/ Village Hall
Chiddingfold Village Hall Cinema
Village Hall &nbsp &nbsp Coxcombe Lane, Chiddingfold, Surrey GU8 4QA