---
---
End of an Era
Last Gig gone
Pictures coming soon
Chiddingfold Ex Services Mens Club
is now closed Reopens in 1 or 2 years
Chiddingfold Rocks!
A beautiful Surrey village with hard rock roots…
The latest Chiddingfold Archive exhibition, opening on Saturday 11th October 2008, is called Chiddingfold Rocks and celebrates the life and times of 'Chid Club' and the village's extensive rock roots.
The Banking House, The Green, Chiddingfold,
Surrey GU8 4TU
EXHIBITION OPENING TIMES: Saturday 11th October, 10am-4pm, Saturdays 1st November & 6th December, 10am-2pm
Saturday 4 October
10-30 am
Closing Down Sale
of Unwanted Artefacts
Tables chairs etc.
News letter on future of Club
---
Chiddingfold Music Club
Woodside Road
Chiddingfold &nbsp Surrey
GU8 4QD
Licensed bar and parking
---
Outside the Club on gig nights is a burger bar
For picture &nbsp &nbsp - &nbsp Click here
---
---
---
The Hoax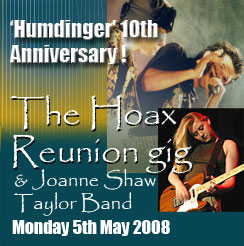 Monday 5th May
Admin. £ 17·50 Adv £ 20 Doors
Doors 8 pm
Tickets From
---
---
---
THE Prognosis

Friday 23rd May
Doors 7-30 pm
Admin. £ 12&nbsp &nbsp( £ 5 concessions)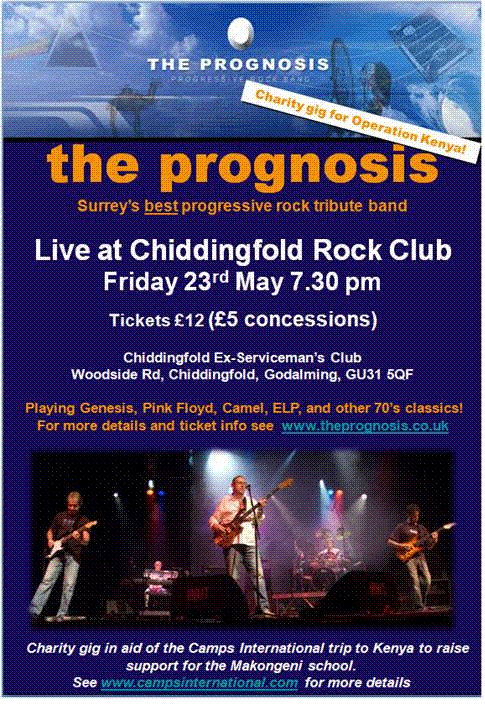 Tickets From


Simon Gardner on 0791 777 3850
Clare on 01483 546 555
Progressive rock music at it's best: Genesis - Pink Floyd - Camel - ELP - Caravan
We are currently working on a few new songs to add to our set list some of which may be:
* Every Day (Steve Hackett / Spectral Mornings)
* Crime Of The Century (Supertramp / Crime Of The Century)
* Yes Medley (Yes / Yes)
* New World Man (Rush / Signals)
* Birdland (Weather Report / Live)
If you want some more details/pictures etc see www.theprognosis.co.uk
---
---
---
Albert Lee & Hogan's Heros
SOLD OUT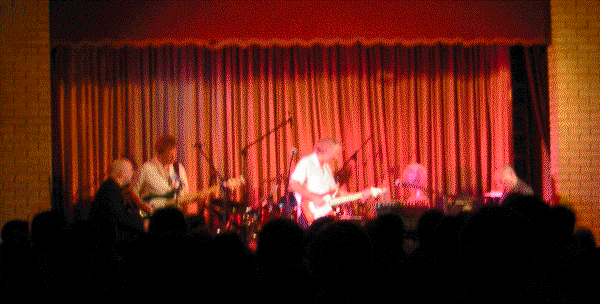 Albert Lee at Chiddingfold Club
Postponed
Albert Lee Has Broke his Arm,
back Friday 6th June
Albert Lee site. Details
Those with tickets can get in on June 6
For me Albert Lee and Hogans Heroes gigs at the the club have been the best in over ten years of promoting bands
They have had everything - fantastic musicianship , great songs and that X Factor that we all want from a gig,
where the hairs on the back of your neck stand up.
For those of you unfortunate enough not to about Albert Lee, he simply The Guaitarist's Guaitarist.
He has played with countless top names Eric Clapton, Joe Cocker,Willie Nelson Brian May,Emmy Lou Harris,
Linda Ronstadt,Everly Brothers, The Crickets Joan Armatrading, Chris Farlow and Dave Edmunds to name but a few
When he is not touring with Bill Wymans Rhymth Kings, 2002 grammy award winner Albert fronts Hogan's Heroes ,
which includes world renowed pedal steel guaitarist Gerry Hogan.
come along and prepare to be amazed &nbsp Howard Williams
Admin. £ 16
Doors 8 pm
Tickets From
http://www.albertleeandhogansheroes.com/firstpage.htm;
---
---
---
Howard Williams
Disco & Band Promotions
---
---
---
Eclectic Live Music
Do music events here
---
---
---
White Mountain Promotions
have have done things in the past
---
---
---
More news and events in the future!
Chiddingfoldnews do our best, not responsible for inaccuracies