Handshakes and Handover - Another Successful Rotary Year Draws to a Close
Open Evening – Rotary Club of Haslemere Haslemere Rotary 2016 in Chiddingfold Haslemere Rotary Christmas Collections
Every June, Rotary Clubs review their fundraising activities over the previous 12 months. Cheques are presented to representatives from chosen charities at the Annual President's Night. Badges of office are passed to the incoming President and President Elect.
The Rotary Club of Haslemere recently celebrated the end of another successful year, at the Lythe Hill Hotel, with its President's Night. Peter Onions – the outgoing President – was delighted to hand over cheques totalling £6,000, shared between 'Alzheimer's Society,' 'Shooting Star Chase – Children's Hospice Care for Children' and 'The Guildford Eye Project / Global Sight Solutions.'
All monies were donated, by the generous people in our communities, during many of our activities such as Santa Sleigh collections, Christmas street collections, Elephant Stampede Race night, Haslemere Charter Fair, and local events the Rotary Club supported in various ways. Many thanks to all, for your continuous support of the Rotary Club of Haslemere and the Charities funded this year.


Charity Cheque presentation by Peter Onions,
from left: Ashleigh Ace from Shooting Star Chase, Neil Richie from Global Sight Solutions and Elaine Clement from Alzheimer's Society
From 1st July a new President and new Committee Chairs will form the Club Council for 2016/2017. President Roy Wylam will Chair the Club Council, assisted by President Elect Jenny Mason.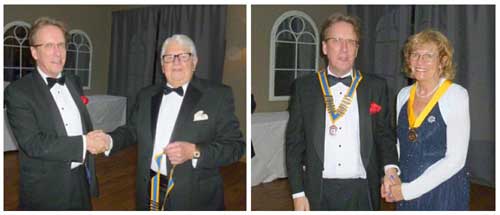 Presidential handover from Peter Onions to Roy Wylam (left) and Jenny Mason (right)
Through its thousands of Clubs worldwide, Rotary International recognises individual Club members and/or members of the public with the award of a 'Paul Harris Fellowship.' This is earned for tangible and significant service to further better understanding and friendly relations among local communities and peoples of the world. Peter Onions named three "Paul Harris Fellows" from within the Haslemere Club.


Peter Onions with Kerstin Ochel (Marketing & PR) and Terry Watts (Secretary).
Tim Shepherd (Community Services Chairman) received his award at a later date, having been on holiday.
Press relase from Marketing & PR - Rotary Club of Haslemere Recived July 4, 2016 First posted July 10, 2016
Kerstin Ochel • Tel: 01730 300189 •

Please visit www.haslemererotary.org for more details.