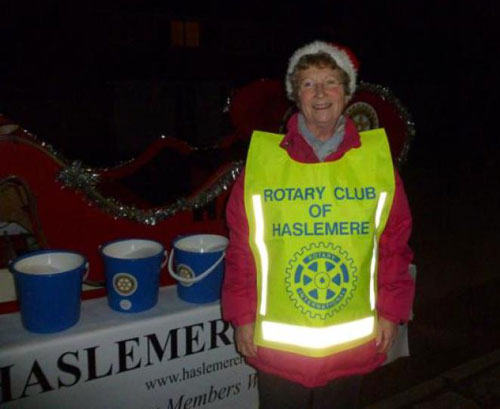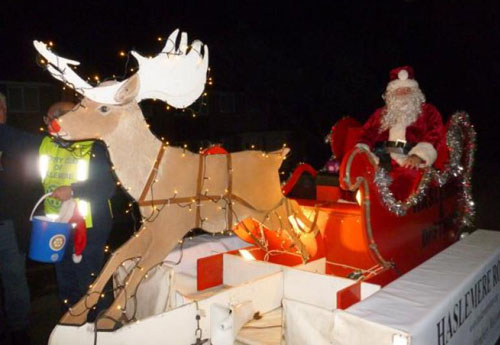 Home Music Contacts Archive Whats-on

Haslemere Rotary Christmas Collections Round-up
A huge THANK YOU to all members of our local communities and villages for their generous contributions during our Christmas Collections!
Either through donations whilst out and about doing your Christmas shopping, when visiting Haslemere and / or Haslemere Christmas Market, or during our Santa Sleigh rounds.
We were delighted to be invited to the Christmas Carols on Lion's Green and thoroughly enjoyed contributing to the festive spirit.
Much positive feedback was received about Father Christmas and his sleigh being seen out and about for a second year running.
The sleigh is now taking a rest to be up and ready for next year.
The Christmas Raffle proofed again being very popular and contributed a large portion to our overall result.
We are pleased to announce the following raffle prize winners:

Derek Boxell (Haslemere) – Dinner for Two at The Crown Inn, Chiddingfold
Mr Wheatley (Woking) – Christmas Hamper
Michael Foster (Haslemere) – Case of Pegasus English White Wine
Mr Knight (Ifold) – Case of Leo Prades St Estephe
Benedict Gregory (Liss, 18 months for his Mother) – Spa Day for Two at the Georgian House Hotel
Many thanks to The Georgian House Hotel The Crown Inn and Pegasus Wines (Vanessa & Peter Moss) for donating this year's raffle prices.
In total we raised almost £3000.
The money will be donated to our two chosen charities. Those are the local branches of Alzheimer's Society and Shooting Star Chase Children's Hospice.
We ran each activity with six to eight club members but always welcome new members to get involved in our support of local, national and international communities.

If you would like to be part of an active service club please refer to our website: www.haslemererotary.org.


Press relase from Marketing & PR - Rotary Club of Haslemere Recived January 2, 2016