June 20, 2019
Home Archive Music Contacts Whats-on Tipteerers
Hurricane Finale signals the end of Wings & Wheels
Wings & Wheels bowed out over two spectacular days on Saturday 15th & Sunday 16th June.
A mix of sunshine, showers, mud, laughter, tears and the very best in air and motoring displays ensured the 15th and final Show was a great success.
The Military Zone crowd line parade kicked things off as the cavalcade of tanks, trucks, jeeps and motorbikes displayed, quickly followed by the fast and furious motoring demonstration.
Seven displays comprising a range of cars including Burbling Bertie the Bentley, RAM Cobra SC, Jaguar XK150, Austin Healey, Morgan 3-Wheeler, Chevrolet Mustang GT Convertible, Ferrari 512TR, Ultima Spyder, Ford Anglia and a host of NASCARs, including the Chevrolet Impala SS. The eighth class was full of motorbikes and combinations including the Egli-Vincent, Triton and Suzuki F1 GSXR 750.
Waking up the entire arena before the start of the air display was Brooklands Museum's VC10 which demonstrated the might and noise of its engines.
The Tigers Parachute Display Team opened the airshow on Saturday, with an explosive pyrotechnics display from the Strikemaster pair opening on Sunday. Wings & Wheels is known for its formations and the team didn't disappoint as they paired the Aces High DC3 with the B-17 Flying Fortress, Sally B, and the 'Ultimate Fighters' comprised a Sea Fury and a Hurricane.
The Show welcomed back the two Spitfires from the Battle of Britain Memorial Flight, The Blades, Richard Goodwin in his Pitts S2S, The Turbulent Display Team, NSF P-51 Mustang (Shark) and Fireflies Aerobatic Team. The RAF Chinook Display Team delighted with their famous hand wave along the crowd line and, completing the RAF Line-up, the Tutor and Tucano display teams were back on the airshow circuit showing off their versatility.
New this year was the introduction of the Westland Lysander, the first aircraft to ever land at Dunsfold Aerodrome, and the unique G-Force Aerobatics Extra 300S flying with a 40% Scale Model. Crowd favourites, and headlining the Show both days, the RAF Red Arrows didn't disappoint and brought the magic and great British spirit that we all love.
As the show concluded on Sunday, the audience fell silent to watch the finale, an emotional and poignant display from two Hawker Hurricanes.

Jamie McAllister, Event Director, Wings & Wheels comments:
From humble beginnings in 2005 and 10,000 visitors, to its heyday in 2015 and 40,000 visitors, Wings & Wheels has been a privilege to direct. Over 15 shows the event has evolved into five hour air displays, two hour motoring demonstrations, an arena full of attractions and zones, stunt shows, theatre shows, military re-enactors, tanks and tours of iconic aircraft and so much more.
It is something we are truly very proud of. The event this weekend was enjoyed, despite the variable weather, by over 28,000 visitors and showcased the very best of what Wings & Wheels is about. We were, and continue to be, humbled by the outpouring of love for the event and CREW.
The final display from two hurricanes on Sunday couldn't have been more fitting and, as the audience fell silent to watch them, it was a truly emotional close to the Show."
Press release from Dunsfold Park Ltd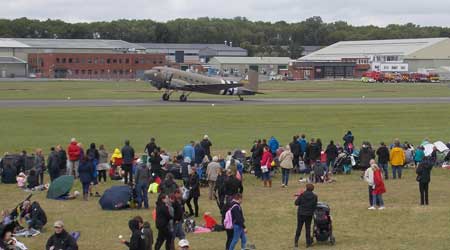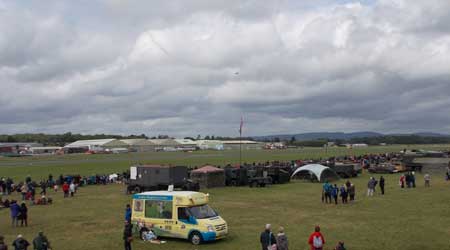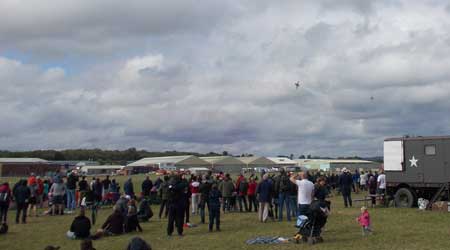 Wings & Wheels 2019 Wings & Wheels 2019 .Second Press Release