December 5, 2018
Home Archive Music Contacts Whats-on Tipteerers
Wings & Wheels Announces Final Air Display Line-up
The final Wings & Wheels this Saturday 15th & Sunday 16th June is set to be our greatest show!
The air display is known for its formations and the team have not disappointed this year.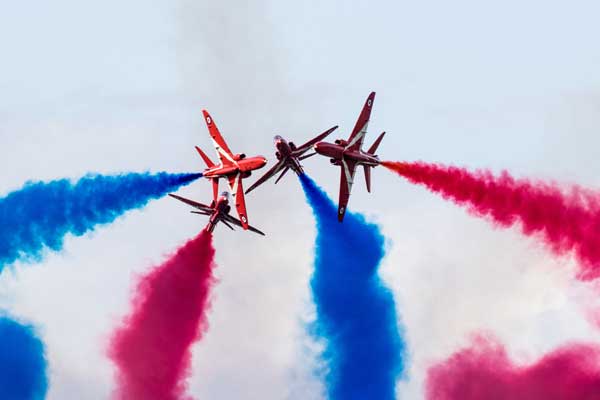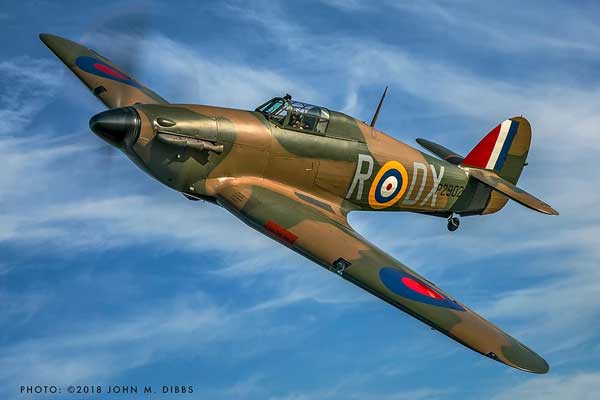 We are delighted to welcome, for our first formation, the 'Ultimate Fighters' comprising a Sea Fury and a Hurricane. Back from the 75th anniversary D-Day celebrations, the Aces High DC3 will be pairing up with the B-17 Flying Fortress, Sally B, for our second formation.
The Fury on display, construction number 37539, was produced by Hawker's as a Fury ISS – Iraqi Single Seat for the Iraqi Air Force. Joining the Sea Fury is the Hawker Hurricane Mk.I G-ROBT - Serial Number P2902 – which was built in 1939.
The Aces High DC3 took part in D-Day 75 years ago and, if you look closely, you can still see the bullet holes in the airframe. The plane was amongst 30 other vintage Douglas DC-3 and C-47 Skytrains that soared across the English Channel in formation on 5th June for the 75th anniversary of D-Day celebrations. The DC3 will fly with the B-17 Flying Fortress G-BEDF, the last remaining airworthy B-17 in Europe. For 41 years Sally B has been maintained and flown as a memorial to the 79,000 Allied airmen who lost their lives in Europe during the Second World War.
Wings & Wheels is also delighted to welcome a new, unique display to the airshow, the G-Force Aerobatics Extra 300S flying with a 40% Scale Model. The little and large display looks like two full size Extra 300 aircraft at first glance, on closer inspection the stunning routine of formation and opposition aerobatics is made up of a full size, high-performance, single-seat Extra 300S aircraft flown by Chris Burkett. The other aircraft is a 40% scale, radio-controlled model flown by Mike Williams.
The Strikemaster duo has an explosive extra special surprise with pyrotechnics, adding to the pure turbo jet noise you won't be able to miss!
The Red Arrows, Battle of Britain Memorial Flight (two Spitfires), Chinook, Tutor, Tucano, the Tigers Parachute Display Team, Westland Lysander, The Blades, O'Brien's Flying Circus, Richard Goodwin, The Turbulent Display Team, NSF P-51 Mustang (Shark) and Fireflies Aerobatic Team make up the rest of the airshow which is accompanied by witty and knowledgeable commentary from aviation experts, Melvyn Hiscock and Brendan O'Brien, and display pilots.
Closing the last ever show on Sunday 16th June will be the Hawker Hurricane, a company and aircraft of special significance to the Aerodrome.
This particular plane, Hurricane G-HITT Serial Number P3717, originally started life as a MkI Hurricane and was later converted to a MkII. It was built in 1940 and originally fitted with a Merlin 3 engine. It was delivered to 253 Squadron at Kirton in Lindsey on 13th July 1940 and was flown by Pilot Officer WMC Samolinski. Seven weeks later it was attacked by a Messerschmitt BF110. During the Battle of Britain P3717 was allocated to B Flight with Pilot Office Samolinksi. It was involved in several dogfights between 253 Squadron and the aircraft of ZG2 and over Redhill, Surrey, Samolinksi claimed the destruction of a BF110. The aircraft eventually found its way to Russia, from where it was retrieved and returned to the UK.
The Hawker Hurricane is currently owned by the family of Hugh Taylor who sadly passed away in May. Hugh met his wife at Dunsfold Aerodrome and we couldn't think of a more fitting aircraft to do the honours and close the final Wings & Wheels airshow on Sunday.
Jamie McAllister, Event Director, Wings & Wheels comments: "The history of the site is incredibly important and we have been able to reflect that throughout the Show and, more poignantly, in the air. Over the years we have tried to add a little extra magic in the air with some memorable and unusual formation displays. We are thrilled to have such iconic aircraft, with close ties to the Aerodrome, displaying together this weekend.
In our final year it is bittersweet looking back and celebrating all that we have achieved, but the team also recognises it is time to say goodbye with one last hurrah. Over 14 shows Wings & Wheels has evolved and now has five hour air displays, two hour motoring demonstrations, an arena full of attractions and zones, theatre shows, military re-enactors, tanks and tours of iconic aircraft and so much more. It is something we are truly very proud of and are looking forward to celebrating."
The sensational summer event for the whole family, Wings & Wheels at Dunsfold Aerodrome, will be celebrating its 15th and final Show with a change in date to Saturday 15th and Sunday 16th June. Famous favourites in the air and on the ground will blow your mind, whilst the attractions and Zones in the Arena will keep you entertained and buzzing with delight the WHOLE weekend.
The 'Wings' of the event would not be complete without a close-up inspection of all the weekend's visiting aircraft including Dunsfold's resident Boeing 747 and Brooklands Museum's VC10 in the 'Wings Park', both open for tours.
Supercars and classic and vintage icons put on an awe-inspiring display of power and speed on the Top Gear track in a 2 hour auto spectacular.
The 'Wheels' of the show included displays from Koenigsegg Agera R, McLaren 12C, Lamborghini Aventador Roadster and Huracan, Pagani Zonda, Ferrari California T, Aston Martin Rapide, Dodge Monaco, TVR Tasmin 280i, Ducati Multistrada 1200s, Ferrari F355 Berlinetta, Ford GT40 and Lotus Elise. Visit the Wheels Zone with a bigger and better crowd line parade and interactive displays from car and motorbike clubs.
The Military Zone & Parade is interactive and explosive bringing re-enactors in a living history zone and our popular military vehicle parade. The Zone has over 80 military vehicles, six re-enactment groups, as well as the history of Dunsfold Aerodrome and Army, Navy and RAF recruitment stands for everyone's enjoyment.
Sid's Zone is an action packed free area for the little ones. From 10:00 until 16:00 the kids can join in with colouring competitions, arts and crafts, paper plane challenges, face painting and the popular Sid's Trail which encourages the whole family to search the arena for questions and answers to win a goody bag. Meet and greets with show mascot Siddeley and the display pilots are not to be missed.

The excitement and anticipation doesn't stop at the main displays as the 32 acre public arena is bursting with a huge variety of interactive attractions containing all you need for a great family day out. The show arena boasts go-karts, aviation and motoring simulators, military outlets and displays, static aircraft, fairground and over 60 retail outlets selling a wide variety of products and gifts. Shopping in the arena includes a craft marquee full of tempting tea time treats to take home and craft gifts.
As the last aircraft touches down the party starts across the arena with musical evening entertainment from Champagne at the Blitz, a 1940s songbird trio armed with smooth harmonies, seamed nylons and lots and LOTS of red lippy!
Taking the hassle out of your day the show includes added extras
to make your experience even more enjoyable;

over 18 fixed-price catering outlets,
two bars,
hospitality facilities,
free on-site parking,
public camping,
lost children point,
disabled access,
informative show commentary,
opportunities to meet the pilots,
official show merchandise and grandstand seating.
Facilities at Wings & Wheels include:
Free parking
On site camping facilities
Toilets for disabled persons
Disabled parking
First aid centre
Lost & found (people and property)
Grandstand seating
Trade village
A variety of food outlets (sorry we cannot facilitate personal barbecues)
Licensed bar
No dogs or pets are permitted into the park except assistance dogs
---
The 15th annual Wings & Wheels will be held on Saturday 15th & Sunday 16th June 2019, at Dunsfold Park near Guildford, Surrey, and is open to spectators from 09:00 until 20:00.
Advanced rate tickets from
£24

for adults or

£55

for a family. Single child tickets (for children aged 5 – 15) will be

£8.

Children under 5 go free. Hospitality packages start from

£199

per person, weekend passes, grandstand tickets and camping are also available. For more information visit www.wingsandwheels.net or to book standard tickets call 08712 305 572.

Tickets are available on websitewww.wingsandwheels.net Earlier Press Release this year