December 22, 2017
Home Archive Music Contacts Whats-on Tipteerers
Chinook Confirms display at Wings & Wheels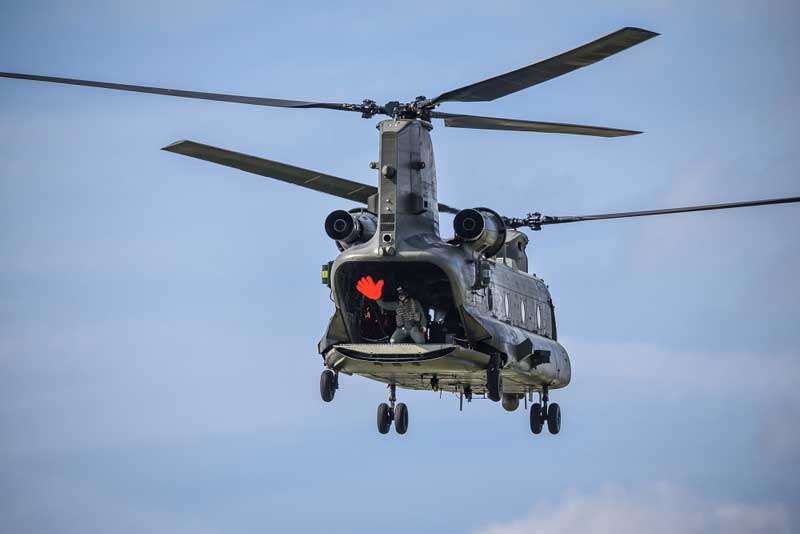 The familiar sound of the twin rotors of the Chinook will be back at Wings & Wheels on Saturday 25th and Sunday 26th August.
This bank holiday as the Chinook Display Team returns to Dunsfold Aerodrome with the much-loved helicopter.
The team is based at RAF Odiham in Hampshire and aims to demonstrate the RAF Chinook's capability. As well as part of the RAF Chinook Display Team, the crew are also part of a fully operational Squadron where they combine their daily training demands with practising their display sequence.
The Chinook Display crews have, for many years, flown with painted helmets but these have tended to be simple in nature and consisting of stripes of the British National or Squadron colours. For the RAF100 season the team felt that the time was right for something new. The helmet was designed by team co-pilot Flt Lt Andy Donovan and incorporates the eagle from the Royal Air Force crest as its biggest feature.
The 2018 formation sequence consists of 17 different manoeuvres including, the opening Run in to Crowd Centre for Nose Over with Turn Away, Pedal Turn, 'Roller Coaster' (Nose Over followed by Nose Over), 360 degree Wingover at Crowd Centre, 180 degree Nose Down Quickstop, Taxi Sideways for Crewman Wave, 540 degree 'Gorni' Corkscrew, 315 degree Spiral Descent to break from Crowd before they finish with the Over the Shoulder Departure.
It's a thrilling display which not only shows how skilful the pilots are, but the versatility and manoeuvrability of the Chinook helicopter used for trooping, resupply and battlefield Casualty Evacuation (CASEVAC) and for carrying internal and/or underslung loads.
Jamie McAllister, Event Director comments: "We love the Chinook at Dunsfold Aerodrome with its unique noise and watching the skill the pilots use to command the large helicopter. It is a display that has to be seen to be believed. We are thrilled to be welcoming the popular team back to Wings & Wheels for the whole weekend."
Visitors to Wings & Wheels can also enjoy other air displays including show favourites the Red Arrows, Battle of Britain Memorial Flight (Lancaster, 2 x Spitfires), the Tigers Parachute Team, The Blades, Jet Provost, Hurricane, Strikemaster, O'Brien's Flying Circus and Fireflies Aerobatic Team, accompanied by witty and knowledgeable commentary from aviation experts and display pilots.
The 'Wings' of the event would not be complete without a close-up inspection of all the weekend's visiting aircraft including Dunsfold's resident Boeing 747 in the 'Wings Park', the Brooklands VC10 and Aces High DC3, all open for tours.
Supercars and classic and vintage icons put on an awe-inspiring display of power and speed on the Top Gear track in a 2 hour auto spectacular. The 'Wheels' of the show includes displays from McLaren 12C, Lamborghini Aventador Roadster and Huracan, Pagani Zonda, Ferrari California T, Aston Martin Rapide, Dodge Monaco, TVR Tasmin 280i, Ducati Multistrada 1200s, Ferrari F355 Berlinetta, Ford GT40 and Lotus Elise.
Visit the Wheels Zone with a bigger and better crowd line parade and interactive displays from car and motorbike clubs. The popular Monster Truck arena returns offering demonstrations and passenger rides.
The Military Zone & Parade is interactive and explosive bringing re-enactors in a living history zone and our popular military vehicle parade. The Zone has over 80 military vehicles, six re-enactment groups, as well as the history of Dunsfold Aerodrome and Army, Navy and RAF recruitment stands for everyone's enjoyment.
Sid's Zone is an action packed free area for the little ones. From 10:00 until 16:00 the kids can join in with colouring competitions, arts and crafts, paper plane challenges, face painting and the popular Sid's Trail which encourages the whole family to search the arena for questions and answers to win a goody bag. Meet and greets with show mascot Siddeley and the display pilots are not to be missed.
The excitement and anticipation doesn't stop at the main displays as the 32 acre public arena is bursting with a huge variety of interactive attractions containing all you need for a great family day out. The show arena boasts go-karts, kit-plane demonstrations, aviation and motoring simulators, military outlets and displays, static aircraft, fairground and over 80 retail outlets selling a wide variety of products and gifts. Shopping in the arena includes a craft marquee full of tempting tea time treats to take home and craft gifts and a vintage village.
As the last plane touches down the party starts across the arena with musical evening entertainment from Champagne at the Blitz, a 1940s songbird trio armed with smooth harmonies, seamed nylons and lots and LOTS of red lippy!
Taking the hassle out of your day the show includes added extras to make your experience even more enjoyable; over 20 fixed-price catering outlets, two bars, hospitality facilities, free on-site parking, public camping, lost children point, disabled access, informative show commentary, opportunities to meet the pilots, official show merchandise and grandstand seating.
The 14th annual Wings & Wheels will be held over the August Bank holiday weekend; Saturday 25th & Sunday 26th August 2018, at Dunsfold Park near Guildford, Surrey, and is open to spectators from 09:00 until 21:00.
Advanced rate tickets from £24 for adults or £55 for a family. Single child tickets (for children aged 5 – 15) will be £8. Children under 5 go free. Hospitality packages start from £199 per person, weekend passes, grandstand tickets and camping are also available. For more information visit www.wingsandwheels.net or to book standard tickets call 08712 305 572.

Wings & Wheels is promoted by Dunsfold Park Limited and in 2018 will be assisting the fundraising efforts of Brooklands Museum Trust and Help for Heroes.
Facilities at Wings & Wheels include:
Free parking
On site camping facilities
Toilets for disabled persons
Disabled parking
First aid centre
Lost & found (people and property)
Grandstand seating
Trade village
A variety of food outlets (sorry we cannot facilitate personal barbecues)
Licensed bar
No dogs or pets are permitted into the park except assistance dogs
Tickets:
Tickets are available on our website,
www.wingsandwheels.net
and from the following outlets:
Dunsfold Park Estate Office, Dunsfold Aerodrome
Guildford Tourist Information Centre
Horsham Tourist Information Centre
Brooklands Museum
Chichester Tourist Information Centre
Maple New, Cranleigh
Peaslake Village Stores
Hazelbank Country Stores
---
Advance Price tickets from £24, for adults or £55 for a family. Tickets on the day will cost £30 for adults and £65 for a family. Single child tickets (for children aged 5 – 15) will be £8 either in advance or on the day. Children under 5 go free. A group advanced booking discount of 10% is available for parties of 10+. How to get to Dunsfold Park: Dunsfold Park is situated 9 miles south of Guildford, 8 from Godalming and 40 from London. The show is accessed via the A281 and is within easy reach of the A3, M25, M3, M4 and the national motorway network. Due to the rural nature of the site, Wings & Wheels is not accessible via public transport. Coach operators will be offering package deals to attend the show. PLEASE FOLLOW EVENT SIGNAGE.
The Promoters:
Dunsfold Park Ltd is the industrial complex on the site of Dunsfold Aerodrome. Dunsfold was a base for Canadian and Dutch B-25 Mitchell bombers during WWII, and for aircraft involved in the Berlin Airlift in 1949. It was subsequently used by Hawker Aircraft and BAE Systems to build combat aircraft including the Hunter, Harrier and Hawk until the factory was closed in 2000. Dunsfold is still used as a private airfield.
The Charities:
Brooklands Museum Trust:
Brooklands Museum Trust Ltd operates Brooklands Museum in Weybridge on the site of the world's first purpose-built motor circuit, which operated from 1907 to 1939, and of the Brooklands flying ground and aircraft factories where aircraft were built and operated from 1908 to 1988. Brooklands Museum Trust Ltd is an independent private-sector charity. For more information visit: www.brooklandsmuseum.com Registered Charity No: 296661

.
Help for Heroes:
Help for Heroes was founded by Bryn and Emma Parry after a visit to the Military Ward at Selly Oak Hospital in Birmingham. The first task was to raise £8.5m for a swimming pool complex at the Defence Medical Rehabilitation Centre at Headley Court in Surrey.

However, due to legal restrictions, it wasn't possible to channel the money raised through existing Military charities for this urgently needed new facility. Bryn and Emma had no choice but to set up a brand new Charity to meet this urgent need. As a result, Help for Heroes was launched on 1 October 2007. Help for Heroes believes that any Serviceman or woman who suffers life changing injuries in the line of duty deserves the very best support for life.

The Charity's focus is on providing support direct to individuals and their families, and to provide facilities to enhance recovery. They do this in the following ways:

Immediate financial support through the £6m Quick Reaction Fund. Opportunities and training, through grants for courses or access to specialist equipment for the transition into civilian life through Individual Recovery Plans. Essential, comprehensive support, from mental wellbeing to education, employment and financial advice for serving personnel, veterans and their families at our four nationwide Recovery Centres. Funding to other specialist charities: e.g. Blind Veteran's UK, Combat Stress, Haig Housing Trust, Horseback UK, Winston's Wish and Canine Partners. Sports Recovery: Adaptive Sports and Adventure Training to help wounded, injured and sick Service personnel gain independence and confidence through funding initiatives such as the Armed Forces Battle Back programme, of which Help for Heroes is a Founder Partner and a partnership with the British Paralympic Association. A lifelong support network for the wounded, injured, sick through the Band of Brothers and their families and loved ones through the Band of Sisters. These groups receive offers ranging from holidays to employment, financial and social support.
Help for Heroes mission is to deliver an enduring national network of support for our wounded and their families which will inspire and enable those who have made sacrifices on our behalf to achieve their full potential.
The war in Afghanistan may be nearly over, but for those who have suffered life-changing injuries, their battles will continue. Help for Heroes will not let them fight these battles alone.
For more information visit: www.helpforheroes.org.uk. Help for Heroes is a charity registered in England and Wales (1120920) and Scotland (SC044984).
Wings & Wheels is promoted by Dunsfold Park Limited
---
Press relase from The Rutland Group Limited Recived July 29 2018
For more information visit www.dunsfoldpark.com www.wingsandwheels.net www.rutland.co.uk

Press release for 2012 Press release -Report- for 2012 Press release for 2013 Press release for 2015 Press release for 2016