ChiddingfoldNews March 7, 2012 Home Music Contacts Archive Whats-on
W & W report
Wings & Wheels to Showcase
Aerodromes Iconic History at 2012 Show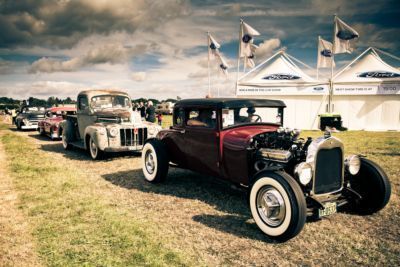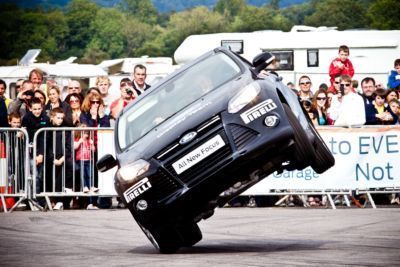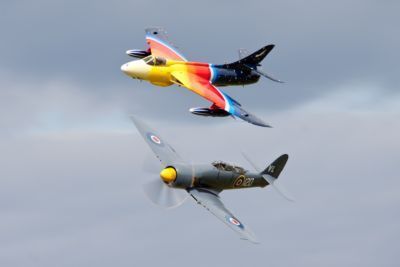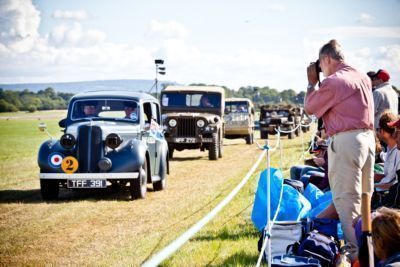 Pictures courtesy of Tony Hart Photography
The historic setting for one of the UK's most popular family days out, 'Wings & Wheels', is celebrating its 70th anniversary in 2012. As the airshow returns to Dunsfold Aerodrome (home to BBC's Top Gear) on Sunday 26th & Monday 27th August 2012, the event will showcase some of the airfield's iconic aviation and motoring history.
Attracting crowds of over 30,000 in 2011 with an outstanding variety of dynamic air and motoring displays, stunt driving, static vehicle exhibitions, shopping, dancing, live bands and arena attractions, the airshow has helped raise more than £250,000 for charities to date.
Visitors to Dunsfold Aerodrome are treated to breathtaking 5 hour air displays including favourites; The Red Arrows, Team Viper (the only Hunter formation team in the World) The Blades, Team Breitling Wingwalkers and the Avro Vulcan, accompanied by witty and knowledgeable commentary from aviation experts and display pilots. The 'Wings' of the event would not be complete without an exhibition of all the weekends visiting aircraft and Dunsfold's resident Boeing 747 – most famously seen in Casino Royale.
The 'Wheels' is a heady mix of thrilling stunts and an adrenaline pumping 2 hour motoring demonstration. The demonstration blasts down the main runway and includes an eclectic mix of vehicles ranging from modern day supercars to classic and vintage favourites, courtesy of Brooklands Museum. In the Stunt Zone world record j-turns, fast action parallel parking, pirouettes and two wheel driving are just some of the outstanding motoring action running every hour.
Visitors wanting a little less action can get a closer look at all displaying vehicles in the Wheels Zone and motoring paddock as well as watching over 80 Military Vehicles in a nostalgic parade along the 1500m crowd line.
The show Arena is 32 acres packed with something to do for all the family. The Hot Rod Zone is a stunning display of nostalgic and 'kustom' Hot Rod vehicles, vintage trade and themed catering outlets accompanied by live rockabilly music. The 1940s Zone holds Jive master classes every hour, re-enactment groups and authentic shopping. The Arena also includes Wings & Wheels favourites; aviation and motoring simulators, children's inflatable's, a fairground, military outlets and interactive car shows. The retail village can also be found in the show Arena and hosts over 80 stands selling a wide variety of products and gifts.


Wings & Wheels Secures King of the Air Display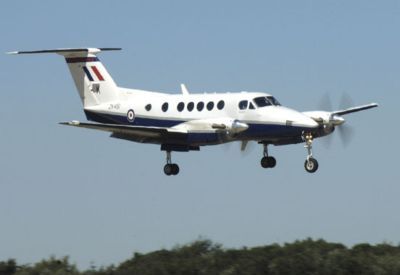 Forget Superman, the exclamations of "is it a war bird, is it a plane" will be rife at Wings & Wheels on 26th & 27th August as visitors gaze into the sky in awe of the exhilarating power and skill displayed by the *NEW* King Air Display. Never before seen at Wings & Wheels the RAF Beech King Air B200 is a twin-engine turboprop monoplane which first entered RAF service back in 2004. The aircraft is the newest RAF training aircraft and its well-proven airframe and advanced cock-pit and systems make it an ideal training platform for the new generation of multi-engine aircraft entering RAF service. Although predominately flown by students the solo display at Wings & Wheels will be performed by an experienced pilot who is set to wow crowds with a dynamic and breath-taking routine. Gerry Forristal, Wings & Wheels Aviation Director comments; "We have refreshed our aviation line-up this year and have introduced some new display items to complement the returning show favourites such as the Red Arrows. The King Air aircraft is a slightly more unusual military asset but will provide an equally astonishing performance and we are eagerly anticipating its participation in the five hour air display on both Sunday 26th & Monday 27th August."
Other aircraft set to perform in the main aircraft display at Dunsfold Wings & Wheels include RAF Red Arrows, Battle of Britain Memorial Flight, RAF Tucano Display, RAF Hawk, RAF Tutor as well as a host of civilian aircraft all accompanied by entertaining and knowledgeable commentary from aviation experts and enthusiasts.


A Tornado of Explosive Excitement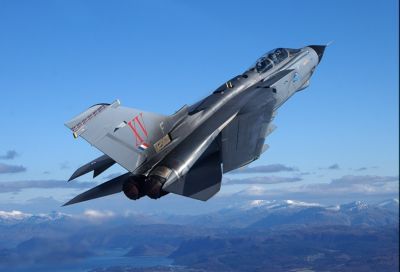 The penetrating roar of jet engines accompanied by the unmistakable thud of machine-gun fire, heart pumping explosions and fierce heat from fireballs will have crowds on their feet in a flurry of anticipation and adrenaline at Wings & Wheels 2012 as the *NEW* RAF Tornado GR4 display perform an astonishing and intense simulated attack on the airfield. It's guaranteed to blow your mind! Never before seen at the charity airshow the Tornado GR4, which has been successfully deployed on military operations in Iraq, Kosovo, Afghanistan and Libya, will be showcasing its complex weapons system amongst a torrent of smoke, fire and explosions as the two aircraft live up to their name by swooping, diving and rolling in an aggressive and exciting display of power and force. Set to be a firm favourite with Wings & Wheels thrill seekers, the RAF Tornado will also blow the mind of aviation enthusiasts with its technical capabilities. Powered by two Rolls-Royce turbofan engines, the GR4 is capable of low-level supersonic flight and can sustain high subsonic cruise speed. The variable geometry, two-seat, day or night, all-weather attack aircraft is capable of delivering a wide variety of weapons including Air Launched Anti-Radiation Missiles, Storm Shadow missiles, Brimstone missiles and is equipped with an integral 27mm Mauser cannon capable of firing 1700 rounds per minute. Nancy Edwards, Wings & Wheels Event Manager, comments: "The Tornado GR4 has never before been seen at Wings & Wheels and nothing can quite prepare you for the intense thrill of gun-fire and explosions accompanied by the awe inspiring sound of jet engines. Visitors to the Show are in for a visual delight as the Tornado display is going to be a captivating addition to the event providing a fantastic insight into the work that the RAF do while out on operations and the astonishing capabilities of the aircraft which are in service."


Wings & Wheels to host only UK Display for Wartime Hero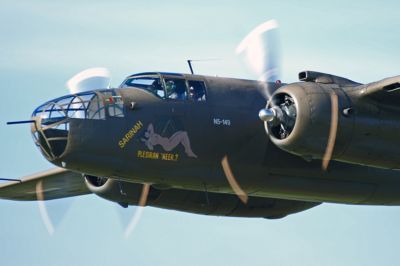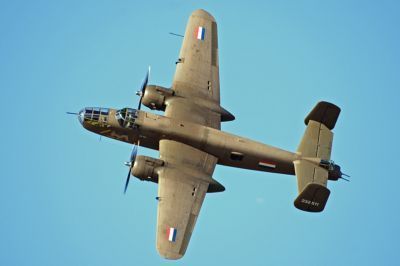 The raw power of the B-25 Dutch Mitchell Bomber will be on display at Wings & Wheels 2012 as the throaty roar of the 1700 horsepower engines are once again heard reverberating around Dunsfold Aerodrome, some 70 years after it was based at the historic airfield. Billed as 'Heroes of the Night' following their participation in D-Day, the Dutch Mitchell Bombers and the squadrons who flew them contributed significantly to Dunsfold Aerodrome's defining Second World War achievements. Now in its 70th year the Airfield will be marking its anniversary at Wings & Wheels 2012 and is delighted to announce that, with the generous support of the Royal Netherlands Air Force Historic Flight, the Mitchell Bomber will be returning to the Surrey base to complete its ONLY UK air display at Wings & Wheels over the August Bank Holiday weekend. It was August of 1943 when the menacing silhouette of the first of the North American B-25 Mitchell's was spotted in the skies above Dunsfold. The aircraft was easily recognisable due to its twin tail rudders, two engines and unusual tricycle undercarriage which, although very much the norm today, was a daring innovation of its time. The aircraft was used in the defence of the country and in connection with the Allied invasion and liberation of occupied Europe and continued to be based at the Surrey Airfield until 1946. Gerry Forristal, Wings & Wheels Aviation Director, comments, "Wings & Wheels will be the public's only opportunity to see this phenomenal aircraft on the UK airshow display circuit this year. We are thrilled to confirm the B-25 Mitchell Bomber is returning to the Aerodrome as it not only holds a fond place in the hearts of us all here on the airfield, but also for our visiting veterans, some of which worked on and flew the aircraft during the Second World War." Wartime images and fascinating stories about the B-25 Dutch Mitchell Bombers and the squadrons who flew them can be discovered in the 70th Anniversary celebratory timeline which can be found in the centre of the show arena at Wings & Wheels 2012.
Great War Sky Knights Display at Wings & Wheels
The unique image of the Sopwith Triplane, which caused the Germans to turn tail and avoid combat in the First World War, along with its fierce German counterpart, the Fokker Triplane, are the latest additions to the Wings & Wheels line-up.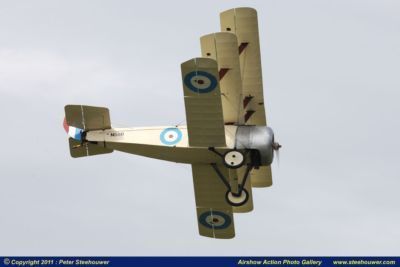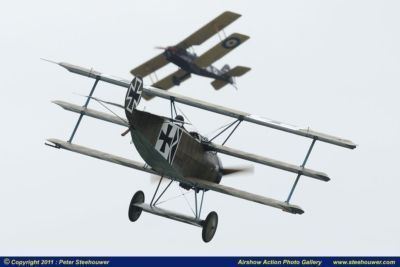 Copyright 2011 ; Peter Streehouwer Air Action Photo Gallery www.streehouwer.com Visitors to the historic aerodrome near Guildford will witness the outstanding climb rate, high speed and fair manoeuvrability of the aircrafts,
made primarily of wood and fabric, as the pilots demonstrate the light and effective controls.
During two summer months of 1917 a single naval squadron claimed 87 German aircraft destroyed for the loss of just one Sopwith Triplane.
The Fokker Triplane was designed to match the Sopwith but was limited in production and spent only a year in battle.

Gerry Forristal, Wings & Wheels Aviation Director comments; "It seems fitting that in celebrating 70 years of iconic aviation at Dunsfold Aerodrome,
Wings & Wheels also acknowledges the magnificent machines from the First World War.
Breathtaking and now uncommon sights in the sky we are delighted to have the Old Flying Machines Sopwith and Fokker Triplanes joining us on Sunday 26th and Monday 27th August."
Other aircraft set to perform in the main aircraft display at Dunsfold Wings & Wheels include RAF Red Arrows, Tornado GR4, Apache Attack Helicopter,
Battle of Britain Memorial Flight, RAF Tucano Display, RAF Hawk, RAF Tutor
as well as a host of civilian aircraft all accompanied by entertaining and knowledgeable commentary from aviation experts and enthusiasts.
The 8th annual Wings and Wheels will be held over the August Bank holiday weekend; Sunday 26th & Monday 27th August 2012, at Dunsfold Park near Guildford, Surrey, and is open to spectators from 09:00 until 18:00 .
Wings & Wheels is promoted by Dunsfold Park Limited with proceeds going to nominated charities: Brooklands Museum Trust, Cranleigh Village Hospital Trust, Help for Heroes and Kent, Surrey & Sussex Air Ambulance.
Facilities at Wings & Wheels include:
Free parking
On site camping facilities
Toilets for disabled persons
Disabled parking
Mobility provision
First aid centre
Lost & found (people and property)
Grandstand seating
Trade village
A variety of food outlets (sorry we cannot facilitate personal barbecues)
Licensed bar
No dogs or pets are permitted into the park except assistance dogs
Tickets:
Tickets are available from the Dunsfold Park Estate Office, near Guildford
or on our website www.wingsandwheels.net at the special advance booking price of £18 for adults or £40 for a family.
Tickets on the day will cost £22 for adults and £50 for a family. Single child tickets (for children aged 5 – 15) will be £5 either in advance or on the day. Children under 5 go free.
A group booking discount of 10% is available for parties of 10+.
Hospitality packages start from £125 per person, weekend passes, grandstand tickets and camping are also available
or to book tickets call 08712 305572.
How to get to Dunsfold Park:
GU6 8HY
Dunsfold Park is situated 9 miles south of Guildford, 8 from Godalming and 40 from London.
The show is accessed via the A281 and is within easy reach of the A3, M25, M3, M4 and the national motorway network. Due to the rural nature of the site, Wings & Wheels is not accessible via public transport. Coach operators will be offering package deals to attend the show. PLEASE FOLLOW EVENT SIGNAGE.
The Promoters:
The Rutland Group are the owners and operator of Dunsfold Park, the industrial complex on the site of Dunsfold Aerodrome. Dunsfold was a base for Canadian and Dutch B-25 Mitchell bombers during WWII, and for aircraft involved in the Berlin Airlift in 1949.  It was subsequently used by Hawker Aircraft and BAE Systems to build combat aircraft including the Hunter, Harrier and Hawk until the factory was closed in 2000. Dunsfold is still used as a private airfield and is the home of BBC TV's Top Gear.
The Charities:
Brooklands Museum Trust
Brooklands Museum Trust Ltd operates Brooklands Museum in Weybridge on the site of the world's first purpose-built motor circuit, which operated from 1907 to 1939, and of the Brooklands flying ground and aircraft factories where aircraft were built and operated from 1908 to 1988.  Brooklands Museum Trust Ltd is an independent private-sector charity.  For more information visit: www.brooklandsmuseum.com Registered Charity No: 296661.


Cranleigh Village Hospital Trust: 
After an 11 year battle to persuade health officials that a new hospital, with NHS beds, should be built on a new site in Knowle Lane, Cranleigh, a David and Goliath fight was won at the end of 2010. Preparations are now under way to build a new hospital and care facility right in the heart of Cranleigh to continue the tradition of the 150 year old cottage hospital, the first of its kind in the country. Cranleigh Village Hospital Trust, which was formed in 2000, is now working with its partners to provide a state of the art facility which will include NHS beds, a host of outpatient facilities which include X-Ray, an expert medical rehabilitation team, a falls service and a care facility. For more information visit: www.cranleighhospital.org Registered Charity No: 1089861


Help for Heroes:
H4H is a British charity which was launched in September 2007 to help provide better facilities for wounded British servicemen and women. Co-founded by Bryn Parry and his wife Emma, the initial aim was to raise funds for the H4H Rehabilitation Complex at Headley Court. This was achieved and successfully opened by HRH Prince William of Wales on 4th June 2010. H4H remains committed to raising funds in order to provide continued aftercare for our wounded servicemen and women and their new initiative has seen £20 million raised since March 2009. This has helped pay for the first four Personnel Recovery Centres (PRCs), the first of which will open in Colchester in Spring 2011, followed soon after by Catterick and then Tidworth. H4H has pledged to raise a further £20 million to fund Individual Recovery Plans, which will be used to directly support wounded Servicemen and women as they progress along the road to recovery, and will fund courses and opportunities that will equip them for their futures. For more information on H4H visit: www.helpforheroes.org.uk Registered Charity No: 1120920.


Surrey Air Ambulance:
Based at Dunsfold Park since 2007, the air ambulance flew over 400 missions in 2010. As a charity they rely almost entirely on public donations and can not fly without public support. The air ambulance need to raise £1,7 million a year to provide a Helicopter Emergency Medical Service or 'HEMS' service to everyone living, working or travelling throughout our counties each and every day of the year.  Your money enables the Surrey & Sussex Air Ambulance to be a vital fourth emergency service. The 'HEMS' carries a specialist doctor and paramedic directly to serious medical emergencies, where they can perform medical interventions at the scene and transport the patient to the most appropriate hospital for the care that they need. "Saving time saving lives". For more information visit: www.surreyairambulance.co.uk Registered Charity No: 1021367.