Home Music Contacts Archive Whats-on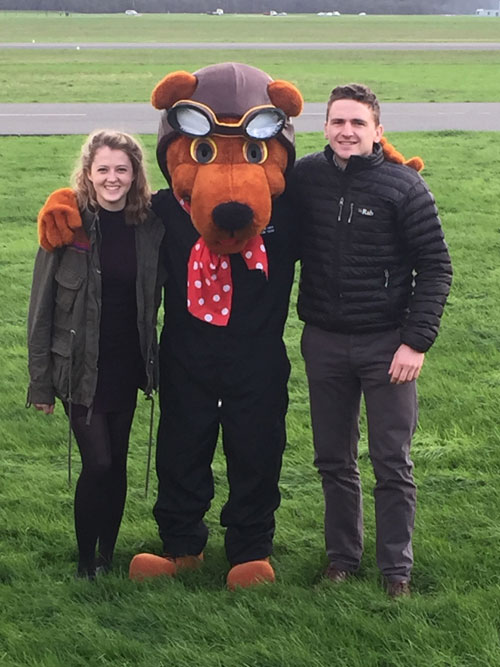 L-R-Laura-Johnson,-Siddeley,-Ed-Lowma

Nancy Edwards PR, Marketing & Events Manager
T: 01483 542226
www.wingsandwheels.net www.surreyhillschallenge.com
www.dunsfoldpark.co.uk www.rutland.co.uk


New Year, new additions to the Wings & Wheels team!
Wings & Wheels are excited to announce two new recruits to the team this year, Ed Lowman and Laura Johnson.
Both have been regulars at the show over the past few years and are keen car and plane enthusiasts.
Ed (24) will be taking up the position as Events Coordinator, whilst Laura (19) will be joining as PR, Marketing and Events Assistant.
Joining us from Help for Heroes where he worked as a Regional Coordinator, Ed will be project managing the Wheels Zone and Camping, as well as assisting with the recently launched Surrey Hills Challenge. Ed has a strong passion for motorsport, spending one weekend a month leading a service crew for a rally team and has recently gained his MSA Co-Driver license. He is currently in training for the Bournemouth Marathon, and has previously cycled from Edinburgh to London!
Ed Lowman, comments: "I can't wait to get started at Wings & Wheels, I have been lucky enough to attend the show for the last four years, through working for Help for Heroes. I'm looking forward to putting my petrol head side to good use and helping the show to get bigger and better."
Laura has recently moved to Dunsfold to take on her first office role. She has a keen interest in aviation and has been a volunteer with The Vulcan to the Sky Trust for the past eight years which means that she, too, has been a regular visitor to W&W. Laura is a keen gymnast and football supporter. She comes from a Musical Theatre background and loves dancing! She has been to many air shows with the Vulcan, but her favourite is our very own Wings and Wheels, as it was her first air show as a Volunteer.
Laura Johnson comments: 'I've been coming to Wings & Wheels with the Vulcan to the Sky team for over seven years now, and love the show. Aviation has always been a keen interest of mine and so working with the Wings & Wheels team is a dream come true!"
Wings & Wheels returns to Dunsfold Aerodrome on Saturday 27th and Sunday 28th August 2016. Visitors have previously enjoyed the world famous Red Arrows, RAF Eurofighter Typhoon, Chinook, The Blades and a host of other modern and historic aircraft during the five hour flying displays. The aviation line-up will be announced in March.
For four and two wheeled fans, supercars and classic and vintage icons put on an awe inspiring display of power and speed on the Top Gear track in a two hour auto spectacular from Brooklands Museum, and over in our Wheels Zone you can expect an array of interactive and static displays.
The show also includes over 25 fixed-price catering outlets, two bars, hospitality facilities, free on-site parking, public camping, lost children point, disabled access, informative show commentary, opportunities to meet the pilots, official show merchandise and grandstand seating.
The 12th annual Wings & Wheels will be held over the August Bank holiday weekend; Saturday 27th & Sunday 28th August 2016, at Dunsfold Park near Guildford, Surrey, and is open to spectators from 09:00 until 21:00. Advanced rate tickets from £22 for adults or £50 for a family are available. A family ticket consists of two adults and three child's tickets. Single child tickets (for children aged 5 – 15) will be £7, whilst children under the age of 5 go free. Hospitality packages start from £155 per person, weekend passes, grandstand tickets and camping are also available. For more information visit www.wingsandwheels.net or to book standard tickets call 08712 305 572.
Wings & Wheels is promoted by Dunsfold Park Limited and in 2016 will be assisting the fundraising efforts of Brooklands Museum Trust and Help for Heroes.


Press relase from The Rutland Group Limited Recived January 19, 2016
Press release for 2012 Press release -Report- for 2012 Press release for 2013 Press release for 2015 Full RAF allocation confirmed for Wings & Wheels 2016