ChiddingfoldNews August 7, 2013 Home Music Contacts Archive Whats-on
Press release for 2012 Press release -Report- for 2012
Facilities at Wings & Wheels include:
Free parking
On site camping facilities
Toilets for disabled persons
Disabled parking
Mobility provision
First aid centre
Lost & found (people and property)
Grandstand seating
Trade village
A variety of food outlets (sorry we cannot facilitate personal barbecues)
Licensed bar
No dogs or pets are permitted into the park except assistance dogs
Wings & Wheels 2013
Saturday 24th and Sunday 25th August.
Wings & Wheels set to soar through the airwaves Wings & Wheels is teaming up with Eagle Extra over the Show weekend, to bring you all the latest traffic and travel news, Show stories and live commentary.
Through the *New* Wings & Wheels Radio Station. From 6am to 9pm we'll be broadcasting on 87.9 FM with Eagle Extra. Latest traffic and travel news will feature throughout the day as we help you to and from the Aerodrome.
From further afield you can listen to Eagle Extra available on 1566 MW or http://www.eagleextra.co.uk/ where you'll get all of the Airshow radio news, along with the best songs of all time.

It's fast, it's furious and it's back!
Wings & Wheels is delighted to announce its return to Dunsfold Park in Surrey
for a spectacular weekend of aerobatic and motoring thrills
which will entertain thousands over the August bank holiday weekend.
Sticking to the two day format the Show's confirmed dates
for 2013 are Saturday 24th and Sunday 25th August.
No sooner had the last jet departed from Wings & Wheels 2012 than the team were already hard at work planning for the 2013 Show. Taking pride in the event's development as a result of visitor feedback, next year's airshow will once again strive to make positive changes which ensure that visitors continue to experience the very best entertainment since the show's inception eight years ago.
Securing its calendar slot on the August bank holiday weekend, the more noticeable change to the 2013 show will be its move from Sunday and Monday to the *NEW* format of Saturday 24th & Sunday 25th August.
Jamie McAllister, Wings & Wheels Event Director, comments; "Wings & Wheels has evolved enormously over the last eight years and key to this has been our willingness to listen to our visitors and in turn adapt and improve the event's format. Our decision to move the show to Saturday and Sunday of the Bank Holiday weekend has been based on visitor feedback and we are confident this will enable more families to attend the event."

The excitement and anticipation doesn't stop at the main displays as the 32 acre public arena is bursting with a huge variety of interactive attractions containing everything needed for a great family day out. The Hot Rod Zone hosts live rockabilly music, themed retail outlets and a stunning display of nostalgic and 'kustom' Hot Rod vehicles. The show arena also boasts laser quest, kids driving, paintballing, kit-plane demonstrations, aviation and motoring simulators, military outlets and displays, static aircraft, a Wall of Death, fairground, emergency services demonstration and over 80 retail outlets selling a wide variety of products and gifts.

The 9th annual Wings & Wheels will be held over the August Bank holiday weekend; Saturday 24th & Sunday 25th August 2013, at Dunsfold Park near Guildford, Surrey, and is open to spectators from 09:00 until 18:00. Tickets start from £20 for adults, £45 for a family (2 adults and 3 children aged 5 – 15yrs), £6 for children aged between 5 and 15yrs and under 5s are free. Hospitality packages start from £65 per person, weekend passes, grandstand tickets and camping are also available. For more information visit www.wingsandwheels.net or to book standard tickets call 08712 305 572.
Wings & Wheels is promoted by Dunsfold Park Limited with proceeds going to nominated charities: Brooklands Museum Trust and Help for Heroes.
---
Chinook to Showcase New Manoeuvres at Wings & Wheels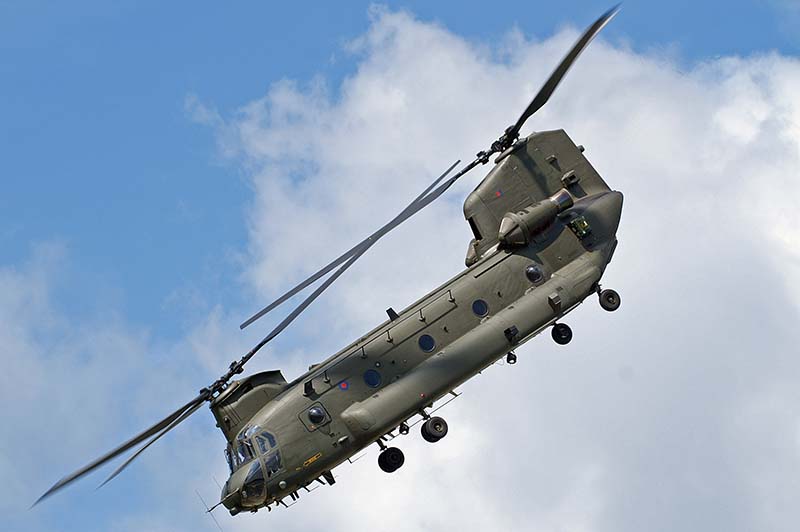 Not seen at the airshow since 2008, Wings & Wheels is delighted to confirm the Chinook helicopter will be gracing the skies above Dunsfold Aerodrome once again on Saturday 24th and Sunday 25th August. The Chinook, now synonymous with combat operations in Afghanistan, will have its power and manoeuvrability demonstrated by members of the display team which is made up of personnel from 18 and 27 Squadrons from RAF Odiham. The captain for 2013 is Flight Lieutenant Paul Farmer. As his second season as the Display Pilot it has given the team a chance to introduce some new impressive manoeuvres that have never been included in the Chinook Display before. This year's Co-Pilot is Flight Lieutenant Gareth Allen, the Display Manager Flight Lieutenant Kyle Thomas and the Rear Crew are Sergeants Andy Caldwell and Steve Jones. Jamie McAllister, Event Director comments: "The skill with which the Chinook is displayed is not to be missed. The giant aircraft is surprisingly agile and versatile and it's an absolute pleasure to watch in action. We are so pleased to have the team back and added to the phenomenal 2013 Wings & Wheels line-up." Visitors to Wings & Wheels can also enjoy the world famous Red Arrows, Wildcat Helicopter, Typhoon, Vulcan, Battle of Britain Memorial Flight, Team Breitling Wingwalkers and a host of other modern and historic aircraft during the 5 hour flying displays. For four and two wheeled fans, supercars and classic and vintage icons put on an awe inspiring display of power and speed on the Top Gear track in a 2 hour auto spectacular from Brooklands Museum.


---
Aerial Aerobatics from Apache at Wings & Wheels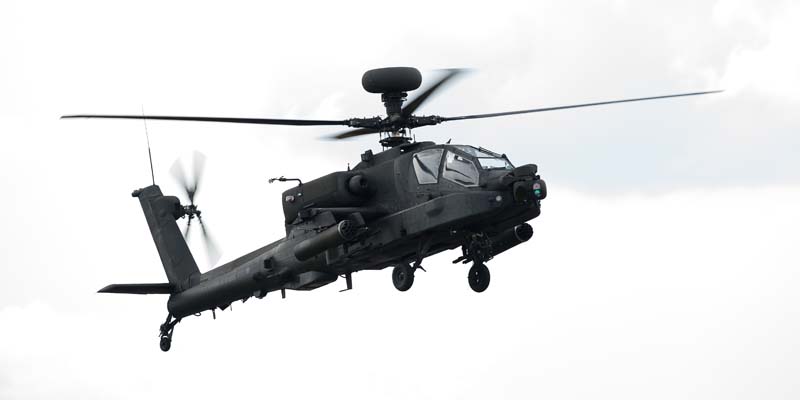 The Apache Attack Helicopter Display Team is joining the Wings & Wheels line-up this Bank Holiday on Saturday 24th and Sunday 25th August at Dunsfold Aerodrome in, Guildford, Surrey.
 

Treating visitors to heart stopping aerial-acrobatic manoeuvres as the pilot appears to cheat gravity with a series of heart-stopping barrel rolls, the display team, unlike some other display teams, is not a permanent assignment. It is drawn from a pool of suitably qualified and experienced, operationally ready, Apache aircrew and ground crew, and uses aircraft drawn from the operational Apache Squadrons.
  This year the pool of display aircrew has been drawn from 662 Squadron AAC which has recently returned from a successful operational tour of Afghanistan.
  The Apache team performs manoeuvres in the helicopter, rather than aerobatics like the Red Arrows team. High hovers, twists, pedal turns, wingovers and flypasts are just some of the team's signature moves as they give visitors a glimpse of its weapons including the aptly named Hellfire missiles, rockets and a 30mm chain gun.
  Jamie McAllister, Event Director comments: "The Apache is a truly fierce defender of the skies and it leaves everyone in its path buzzing over the incredible manoeuvres you don't normally associate with a helicopter. This year's Show is going to be our best yet – and with this latest addition to the line-up we think our visitors will agree. "  

  Apache An impressive piece of machinery the 2001 Apache attack helicopter is designed to hunt and destroy tanks and has significantly improved the Army's operational capability. The helicopter is able to operate in all weathers, day or night and detect, classify and prioritise up to 256 potential targets in a matter of seconds. Specification Gross Mission Weight 7,746kgs (17,077lb) Cruise Speed 272km/h at 500m Maximum Range (Internal Fuel with 20 minute reserve) 462kms General Service Ceiling  3,505m (11,500ft) Crew  2 Armament Carries 16 x Hellfire II missiles (range 6,000m approx), 76 x 2.75" rockets, 1,200 x 30mm cannon rounds, 4 x Air-to-Air-Missiles Engines 2 x Rolls Royce RTM-332
---

The Bottle of Britain Confirms Wings & Wheels Support 
Wings & Wheels has more cause for celebration this week as the air and motoring Show renewed its partnership with Spitfire Premium Kentish Ale.
For its ninth consecutive year, the biggest ale success story of the last decade will be at the 2013 Show supporting the fundraising efforts of the team through ale supplies and sponsorship of key air displays and facilities for past and present veterans.
  Originally brewed to commemorate the 50th anniversary of the Battle of Britain, Spitfire's characteristically Kentish, hoppy flavour and cheeky advertising campaigns have made it a firm favourite with beer lovers and Wings & Wheels visitors.
  Jamie McAllister, Event Director comments: "As the airshow evolves and continues to grow in strength and reputation, Spitfire has been with us every step of the way. The support they provide ensures that we are able to enhance our visitors' experience and offer value for money which is invaluable in these current economic times."
  As well as their continued sponsorship of Wings & Wheels, Spitfire Ale recently announced a new partnership with comedy duo Alexander Armstrong and Ben Miller in the guise of their RAF characters.
The pilots featured in their award winning BBC One comedy sketch show and are renowned for using street language and having stereotypical modern-day attitudes but speaking in clipped 1940s accents.
Continuing Spitfire Ale's tradition of tongue-in-cheek British humour, the characters herald a new era for marketing the beer, helping it appeal to new and existing consumers alike.
 Spitfire Brand Manager Kate Maclean said: "It's an exciting time for Spitfire and whilst we are very excited with all the new initiatives being implemented, we are delighted to continue our support of long term partners like Wings & Wheels. The airshow not only allows us to engage with existing and new customers in a fun environment but, with Alexander and Ben's RAF pilots as our new ambassadors, the fit couldn't be better. "

---
Not content with putting on the best air and motoring Show in the UK
Wings & Wheels has added evening entertainment to the weekend line-up with not one but three different sounds to get visitors dancing
  With big crowds and so much to see and do in the air and on the ground, the Surrey Show is extending the entertainment to 8pm on Saturday so visitors can relax and unwind at the end of the day with music, food and drink. 
    Down in the revamped Military Zone where military vehicles, re-enactors and the aerodromes history can be found, we're introducing a live DJ from the 1940s Radio Station to recreate the sounds of the 40s from England and America. Swing, Big Band and Jazz will get our dancers jiving and the crowds jumping as they entertain visitors throughout the day until late.
  Nestled on a stage of straw in amongst some kustom hot rods and vintage shopping, our popular Hot Rod Zone will be rockin through the night thanks to Lights Out.
Influenced by The Jets, Elvis Presley, Eddie Cochran and Johnny Cash, Dan, Craig and Lee have toured the UK and Europe as Lights Out with their mix of Rock n Roll, Doowop and Rockabilly.
And finally, taking centre stage in the middle of the arena, is local band Geneva. They've something for everyone thanks to their huge repertoire ranging from 50's Rock'n'Roll, through 60's Soul, 70's Funk, 80's Pop, 90's Indie and the best artists of the present-day.
Band members between them have played everywhere from Glastonbury Festival to Everest Base-camp, on TV shows including Later with Joolz, Top of the Pops and TFI Friday, and with legends such as Reef, Ronnie Wood, Kula Shaker, Procal Harem and Freak Power. They'll keep playing if people keep dancing.
  Sunday's not been forgotten as we open the centre stage to a host of up and coming local bands who can't wait to strut their stuff from 6pm to 8pm.
  Jamie McAllister, Event Director comments: "As Wings & Wheels gets bigger and bigger its important the Show keeps up and anticipates our visitor's needs. Evening entertainment is the Show's next evolution and is our way of easing the big rush home by providing a place people can relax, drink, eat and socialize after the airshow. We hope we've got something for everyone with our three very different stages and can't wait to start the party."
 
The 1940s Radio Station
The UK's 1940s Radio Station recreates the sounds of the 1940s as heard in England and from America. They are the first UK based internet radio station to provide a high level of original archive broadcast programmes along with home produced music, news and documentaries. The station is staffed entirely by volunteers who live in different parts of the UK. For more information visit: The 1940s Radio Station
Lights Out
Lights Out are a rockin trio from the Midlands. They have been touring the UK and parts of Europe for the last 10 years playing a mix of Rock n Roll, Doowop and Rockabilly. For more information visit: Lights Out
Geneva
Geneva is a highly experienced function band with a huge repertoire ranging from 50's Rock'n'Roll, through 60's Soul, 70's Funk, 80's Pop, 90's Indie, to the best artists of the present-day. Band members between them have played everywhere from the Glastonbury Festival to Everest Base-camp, on TV shows including Later with Joolz, Top of the Pops and TFI Friday, and with legends such as Reef, Ronnie Wood, Kula Shaker, Procal Harem and Freak Power. The band was formed by Jason Knight in the late 80's with school friends Dominic Greensmith, who went on to drum for Reef and Peter Gabriel, and singer Julie Alanah, whose first west–end role was playing "Beauty" in the original cast of "Beauty and the Beast". Since that time the band has remained a collective of incredibly talented and respected musicians who get together between their own various projects to do what they love best – entertain. For more information visit: Geneva


---
Mitchell Bomber returns to Dunsfold for Wings & Wheels
The Mitchell B-25 Statistics
Manufacturers: North American Aviation Inc. (Inglewood, California).
Type: Fast reconnaissance bomber. Design No. 62B, and a development of the N.A. 40 (prototype), 40A and 40B – known in the U.S. Army as B-25B Mitchell.
Engine: Two Wright Double-Row Cyclone (GR-2600-A5B) of 1,600hp (14-cylinder two-row radials).
Speed: Maximum, 280mph at 13,000ft. Range: 2,650 miles.
Ceiling: 25,000ft. Rate of climb: Initial, 1,800ft per minute.
Armament: 6 guns – 2 fixed .303 machine guns in wings, 2 .5in machine guns in power-operated dorsal turret and 2 .5in machine guns in ventral turret.
Maximum bomb load 2,000lbs.
Dimensions: Span 67ft 6in, length 51ft 5in, height 15ft 9in, wing area 610 sq ft.
Construction: All-metal structure, stressed skin covering.
Fully retractable tricycle undercarriage.
Distinguishing features: Mid gull-wing monoplane with two radial motors, compound tail unit and retractable tricycle undercarriage. Long nose. Engines are underslung and project well beyond the trailing edge of wing. Centre section of wing has marked dihedral, while outboard of the engines a very light anhedral. Angular fins and rudders are set outboard of the tail-plane, which is set high and has large cut-outs for rudder movements. Deep fuselage. Power-operated dorsal gun turret near tail.

Some 70 years after the B-25 Dutch Mitchell Bomber first arrived at Dunsfold Aerodrome it will be back in our skies for Wings & Wheels on Saturday 24th and Sunday 25th August 2013
thanks to the generous support of the Royal Netherlands Air Force Historic Flight.
It was August of 1943 when the menacing silhouette of the first of the North American B-25 Mitchells was spotted in the skies above Dunsfold.
The aircraft was easily recognisable due to its twin tail rudders, two engines and unusual tricycle undercarriage which, although very much the norm today, was a daring innovation of its time
The aircraft was used in the defence of the country and in connection with the Allied invasion and liberation of occupied Europe and continued to be based at Dunsfold Aerodrome until 1946.
Following the Mitchells' participation in D-Day, they were billed as 'Heroes of the Night'.
Jamie McAllister, Event Director comments: "The Dutch Mitchell Bombers and the squadrons who flew them contributed significantly to Dunsfold Aerodrome's defining Second World War achievements.
It is only fitting that we are able to celebrate 70 years since their arrival here with a stunning display at Wings & Wheels."

The Royal Netherlands Air Force Historical Flight Foundation
The Royal Netherlands Air Force Historical Flight Foundation, in Dutch 'Stichting Koninklijke Luchtmacht Historische Vlucht' (SKHV), was first started in 1969 as an aero club (Stichting Vliegsport Gilze-Rijen) by a group of former Air Force and Navy fighter pilots.
The commander of the Gilze-Rijen Air Base at that time supported the renovation of a small hangar in which a Harvard and a Piper Super Cub were restored.
The initial aim of this aero club was to provide private pilots with the possibility of advanced flying training. In the following years several historical aircraft were added to the fleet after having been carefully restored to an airworthy condition.
From 1976 onwards the club has dedicated itself to the restoration and maintenance of propeller-driven aircraft formerly used by the Royal Netherlands Air Force and Navy.
In 1998 the Stichting Vliegsport Gilze-Rijen and the Dutch Spitfire Flight merged to form the Royal Netherlands Air Force Historical Flight (SKHV) thereby bringing the only airworthy Dutch Spitfire and a Beaver into the collection.
On September 24th 2004, during the 35th anniversary, the merge of the Duke of Brabant Air Force (DBAF) and the SKHV was announced.
Since then the DBAF flag-ship, the B-25 Mitchell, has been part of the SKHV fleet.
During the past few decades the SKHV has grown into a leading aircraft museum with a unique collection of airworthy historical military propeller-driven aircraft. The professional and enthusiastic contributions of the many volunteers and the co-operation with the RNLAF ((Royal Netherlands Air Force) is the sound basis of its existence.
---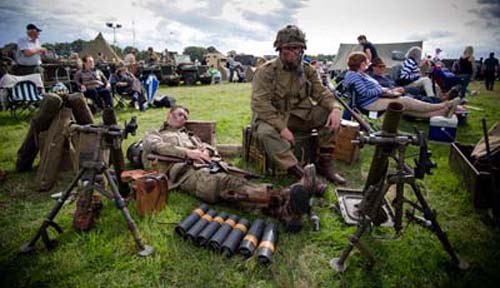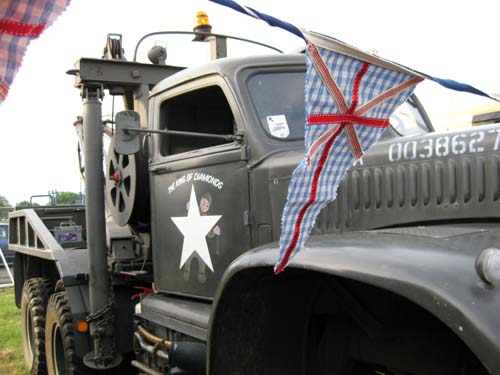 Wings & Wheels has an interactive, explosive Military Zone this year
As the Show brings over 80 military vehicles, re-enactors, a living history zone and 1940s DJ and dancers together for visitors entertainment.
An incredible line-up of military history.
Amongst the vehicles is a 1942 Diamond T Wrecker brought to the Show by Peter and Lyn Read and boasting an incredible pedigree.
It was one of many trucks involved in the Red Ball Run, a famous World War II truck supply route that originated in Normandy in the autumn of 1944.
The Red Ball continually re-supplied allied troops advancing swiftly across France toward the Siegfried Line in Germany.
This trucking supply mission ran around-the-clock for some 90 days.
During that period the Red Ball delivered over 412,000 tons of much needed supplies to the allied troops that ultimately overwhelmed the enemy.
Brian Irving's Chevrolet Town Sedan was used by Rear Admiral Richard Evelyn Byrd, an American naval officer who was the recipient of the highest honour for heroism given by the United States - the Medal of Honour.
Byrd used this vehicle between 1947 and 1952. Only one of 18 built and in service until 1996.
John Bailey's Landrover FC101 Intercept and Comms Trailer was used by the British Army 14 Signals Regiment.
The vehicle is a rare example of the electronic warfare Vampire body variant of which less than half survive today.
And finally, Nick John's US Military Officers Staff Car, a Dodge D11 Luxury Liner, was imported from Kentucky USA for the Marvel Comics Hollywood blockbuster Captain America.
---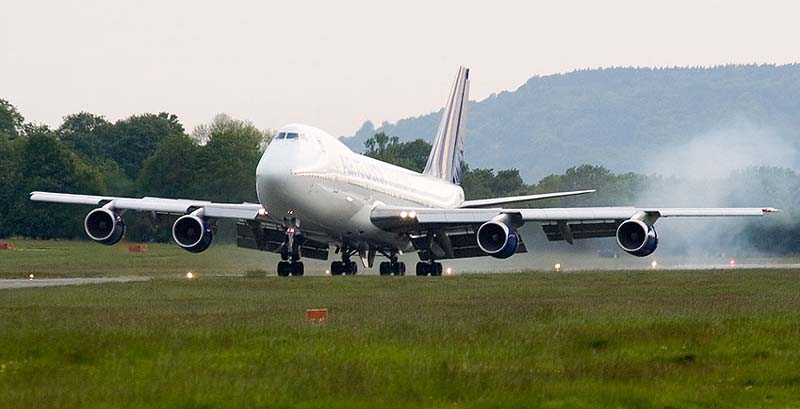 All aboard the 747 - destination Wings & Wheels!
This summer reserve your space on the UK's most famous Boeing 747 at Wings & Wheels 2013 as the Show throws open the jumbo's doors for a very special tour.
Book your place online, bring your boarding pass to the Show and enjoy a behind the scenes look and guided tour from our team of 747 aficionados.
Located in the Wheels Zone by the plane park, the 747 has made its name as the film set of major Hollywood Blockbusters including the recently released Brad Pitt movie World War Z and forthcoming Formula One themed film Rush with Chris Hemsworth.
Visitors will be able to tour the set, learn more about its flying history, sit in the same seat as the meerkats, view the aircraft cock-pit and get up close to the 4 huge engines which were installed for the filming of Casino Royale.
Nancy Edwards, Wings & Wheels Event Manager comments; "Opening the 747 for the first time last year was a huge hit but we knew we could improve on it.
This year we're taking the experience to the next level and our hosted tours will provide even more information and stories on the illustrious flying and filming career of our resident 747.
We want visitors to fully interact from the boarding process right through to disembarking and to help with the queues we've introduced a new online reservation system and on the day booking process so visitors can just turn up and tour!"
Wings & Wheels Volunteer Flight attendants will be on call throughout the day to ensure visitors fully enjoy their experience.
Flights can be pre-booked online by visiting our shop at www.wingsandwheels.net or by visiting the check-in desk at the 747 over the Show weekend.
Spaces are limited and a suggested donation of £4 per adult and £2 per child (aged 2 to 15 years) is requested on the day. Book now to avoid disappointment.
---
BBMF Returns to Wings & Wheels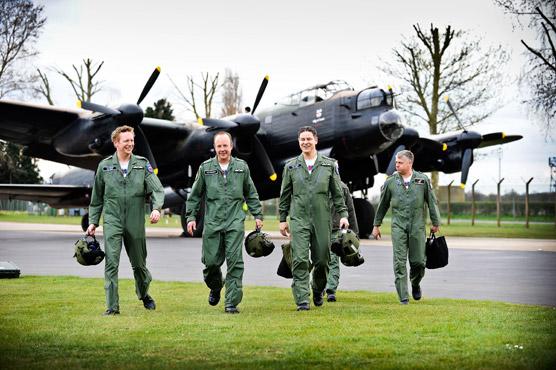 The Battle of Britain Memorial Flight returns in full force to Wings & Wheels on Saturday 24th and Sunday 25th August with a new Officer at the helm and a face-lift for one of BBMF's most iconic aircraft, the Lancaster.
With a new Officer in Charge, SQN LDR Duncan Mason who begins his 3 year tour with BBMF, the Flight has also welcomed "Thumper" the new nose art on the Lancaster, which has replaced the "Phantom of the Ruhr". Thumper MK111 is depicted from the 1942 Walt Disney cartoon "Bambi" and features Thumper the rabbit holding a frothing pint of beer. The nose art has been changed to commemorate the 70th anniversary of 617 Squadron's "Operation Chastise", better known as the Dambusters raid which famously breached the Mohne and Edersee Dams with the "bouncing bomb" and also flooded the Ruhr Valley.
Joining the Lancaster at Wings & Wheels will be the Flights Hurricane and iconic Spitfire which celebrated its 77th anniversary in March.
Jamie McAllister, Event Director comments: "The home of Wings & Wheels is a Second World War Aerodrome with an illustrious history, so it's only fitting that we commemorate this history with the return of the iconic aircraft which make up the Battle of Britain Memorial Flight. It's an honour to have the Lancaster, Spitfire and Hurricane displaying at the Show and we are delighted to confirm their participation."