June 10, 2008 &nbsp Chiddingfoldnews
Stage Build Pictures &nbsp &nbsp - &nbsp Click here
English Rural Housing Association full press relase &nbsp &nbsp - &nbsp Click here

Date: 14 April 2008 News from
Doors open on latest affordable rural homes
The Mayor of Waverley, Cllr. Maurice Byham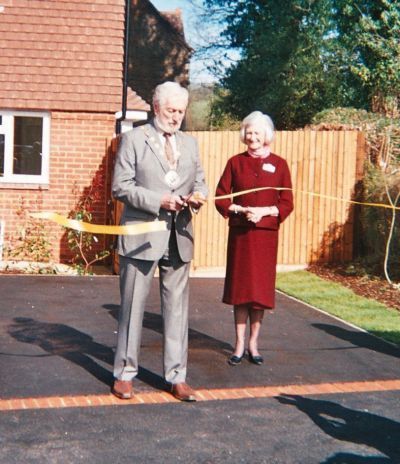 Officially opened a development of 4 affordable rural homes at 4pm on Thursday 24 April 2008
At Queens Mead, Chiddingfold, Surrey. The 4 homes are the result of a partnership between English Rural Housing Association, Waverley Borough Council and Chiddingfold Parish Council. The project has been funded by the Housing Corporation as part of its National Affordable Housing Programme.
The new homes at Queens Mead are due for completion at the end of April 2008 after a build programme of around 6 months and
provides 4 houses for local people. One of the homes has been sold on a shared ownership basis and the other 3 made available at a low cost rent. The homes will be owned and managed by English Rural in a way that benefits the local community, ensuring that those unable to afford market prices can still live in the village.
The development demonstrates what can be achieved through a strategic partnership between a local authority and housing association with financial backing from government.
Christine Tebbot, Chairman, Chiddingfold Parish Council, said:-
"The Parish Council is acutely aware that Chiddingfold is an expensive village and lacks enough affordable accommodation for local people. Local people in housing need, especially young families. As a result those on lower or even middle incomes from the village have to move away, leaving friends and family networks behind them in search of a home they can afford.
"The Parish Council supports the principal that a supply of good affordable housing contributes to creating balanced and viable rural community that sustain local services and facilities from which the whole community benefits.
"We are delighted that 4 local families will benefit from these wonderful new homes"