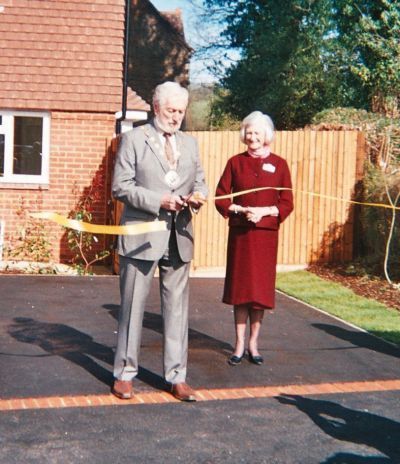 Officially opened a development of 4 affordable rural homes at 4pm on Thursday 24 April 2008
At Queens Mead, Chiddingfold, Surrey. The 4 homes are the result of a partnership between English Rural Housing Association, Waverley Borough Council and Chiddingfold Parish Council. The project has been funded by the Housing Corporation as part of its National Affordable Housing Programme.
The new homes at Queens Mead are due for completion at the end of April 2008 after a build programme of around 6 months and provides 4 houses for local people. One of the homes has been sold on a shared ownership basis and the other 3 made available at a low cost rent. The homes will be owned and managed by English Rural in a way that benefits the local community, ensuring that those unable to afford market prices can still live in the village. The development demonstrates what can be achieved through a strategic partnership between a local authority and housing association with financial backing from government.
Chiddingfold has long been a property hot-spot, as a quintessential rural village that has maintained a number of services it has proved popular with many seeking to take advantage of rural life, whilst benefiting from good transport connections to London and the South East. The popularity and accessibility of the village has led to an increasing demand for homes and pushed property prices beyond the means of many local people.
English Rural is committed to working in villages like Chiddingfold to ensure that rural communities continue to house a mixture of income earners and age groups. The development is the second owned and managed by English Rural in the village, which was also responsible for providing the 4 homes at Coopers Cottages. In addition, English Rural is involved in plans to provide further affordable homes on a new development proposed at Ridgley Road.
The site has been made available by Waverley Borough Council and was previously occupied by 2 bungalows with structural defects which meant they had to be demolished. A Nominations Agreement with Waverley Borough Council, ensures that anyone moving into the homes has a connection to the village.
In line with the Surrey Structure Plan, 10% of energy used by the new homes will be created from a renewable source. This has been achieved by using photovoltaic tiles to minimise reliance on electricity. A number of other energy saving devices have also been included in the design and manufacture, with the development achieving an eco-homes rating of 'very good'.
Notably the development has been constructed using an innovative off-site manufacturing technique called Volumetric Construction. This means that the main structural components were built away from the site and then transported and fixed into place once completed. The idea behind this construction process is to improve efficiency gains and minimise both disruption to the local area and time lost due to site delays. This innovative building method has operated in tandem with the high design and style expectations of English Rural, to ensure that the homes provided benefit from the advances of modern construction but still sit comfortably within their rural surroundings. The scheme will also comply with 'Secure by Design' standards.
Commenting on the success of the development Adrian Maunders, Chief Executive of English Rural, said: -
"Surrey villages have been particularly badly affected by the issue of affordable rural housing. Given the accessibility of the county to prosperous urban areas, and the picturesque nature of many of its rural parishes, open market property values are now well beyond the means of many local households.
"At English Rural we believe that a sustainable village is one that benefits from a mixture of income earners and age groups. Providing small developments for local people like the new homes at Queens Mead is a good way of achieving this. We encourage any Parish Councils who have not yet considered the possibility of an affordable housing development to follow Chiddingfold's example."

Cllr Pat Frost (Con), Waverley Portfolio Holder for Housing, said: -
"This new scheme is a fine example of Waverley working in partnership to deliver much needed homes for local people within Chiddingfold Parish"
Christine Tebbot, Chairman, Chiddingfold Parish Council, said:-
"The Parish Council is acutely aware that Chiddingfold is an expensive village and lacks enough affordable accommodation for local people. Local people in housing need, especially young families. As a result those on lower or even middle incomes from the village have to move away, leaving friends and family networks behind them in search of a home they can afford.
"The Parish Council supports the principal that a supply of good affordable housing contributes to creating balanced and viable rural community that sustain local services and facilities from which the whole community benefits.
"We are delighted that 4 local families will benefit from these wonderful new homes"