Modified: September 16, 2015 Last Modified: February 23, 2021 For new P O see Roberts Stores Epilogue for Old Post Office
This was the Page for
Chiddingfold Post Office
Which closed on Saturday 20th Febuary 2021

Roberts Stores became the new Post Office on Monday 22nd Febuary
contact chiddingfold postoffice

Monday
9am-1pm
2 -5.30
Tuesday
9am-1pm
2- 5.30
Wednesday
9am-1pm
--------
Thursday
9am-1pm
2- 5.30
Friday
9am-1pm
2- 5.30
Saturday
9am-12.30
--------
Tel 01428 68 XXXX
Pockford Road / Rye Street
Chiddingfold GU8 4TP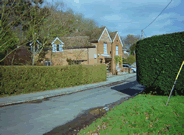 Post Office from Dunsfold Road: At top of Green
---
Airletters
Barclays Bank
Bill Payments
Banking
Car Tax
Co-op Bank
Catalogue Payments
E 111
Electricity Bill
First Class Mail
Flowers by Post
Foreign Currency
Fishing Licence
Giro Bank
Gas Bill
Lloyds Bank
NSB
Phone Bill
Parcel Post
Recorded Delivery
Stamps
TSB
Travellers Cheques
Vehicle Licence
Water Bill

Aeroplanes
Allsorts
Balloons
Balls
Bargain Books
Batteries
Birthday Cards
Bows
Bubble Wrap
Buttons
Calculators
Calendars
Candles
Cap Guns
Cash's Labels
Christmas Cards
Cottons
Cricket Bats
Diary
Doll
Doyley
Drawing Pins
Dymo Tap
Elastic
Erasers

Fax
Floss Envelopes
Glue
Greaseproof Paper
Greetings Cards
Haberdashery
Halloween
Happy Birthday
Highlighters
Highway Code
Hoola Hoop
Ink
Invitations
Jam Pot Covers
Jig Saw Puzzles
John Adam Toys
Kaleidoscope
Key Rings
Kitchen Foil
Knitting Needles
Light Bulbs
Littlewoods Scratch Cards

Lost -
we will direct you
Magnifying Glass
Marbles
Matches
Mobile Phone top ups
Ordnance Survey
& Off Road Maps
Pads
Paper Plates
Party Bags
Pens
Pencils
Personalised
Notepaper
Photo Copy
Plants
Postman Pat
Protractors
Q - not very often
Rain Hats
Ring-binders
Rubber Bands
Rulers


Scissors
Seasonal Gifts
Second-hand Books
Soft Drinks
Stationery
String
Thomas the Tank
Engine
Torches
Toys
U ask us we might stock it
Valentine Cards
Velcro
Video
Wind Chimes
Will Forms
Witches Hats
Wool
Wrapping Paper
Writing Paper
Wunderweb
Y -go out the Village?
Zips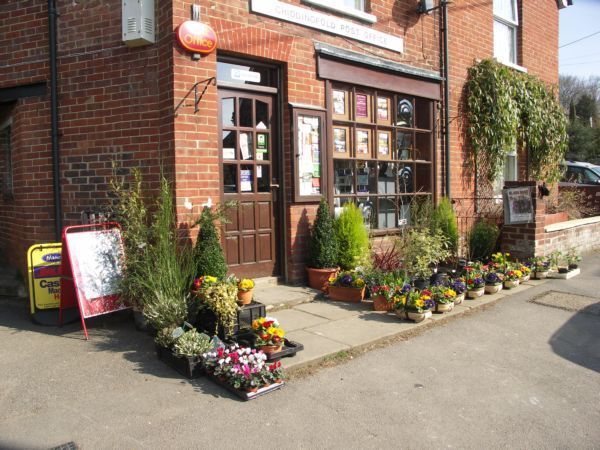 Plants for sale all year round
---
Chiddingfold Post Office – The End Of An Era
It is with great sadness that Mark (Adams) and Gill (Allen) on Saturday 20th February 2021 will be closing the Chiddingfold Pockford Road Post Office for the last time. The Post Office is becoming a franchise and is opening at Roberts Stores on Monday 22nd February.
Mark and Gill took over the Post Office from Jenny Dunsdon on 4th August 1997 and for the past 24 years have been an important and integral part of the village.
Not only a hub for (chatting), banking, pension/cash withdrawn, business banking, sending post, collecting packages, buying cards, gifts, beauty products, sweets, stationary, plants, paint brushes, hardware, snow sledges and even pointing guns! There seems to be no limit to what the shop would sell – Gill saw it as their mission to always have a mixed A-Z of stock of everything that was not sold anywhere else in the village! The most popular memories seem to be of the sweets on sale, whether as a child or people taking their children and grandchildren. Gill is known to everyone in the village for her passion of plants, with not only selling plants at the shop but also having a fabulous stall at the village fete. Gill's second passion next to her cats was the vast array of greeting cards for all ages and all occasions.
Mark is known to everyone in the village for his passion of fishing and of gardening. Mark has served Chiddingfold Post Office for almost 33 years, as between 1988 and 1997 Mark would forfeit 2 weeks of his annual holiday from Godalming Branch Post Office where Gill was manager and Mark was deputy manager, so that Jenny Dunsdon could take a well needed holiday! Gill and Mark have done much for the community including supporting and selling local charity tickets (including the village cinema, Chiddfest etc.) and as volunteers for the bonfire amongst other things. Also, as a general font of knowledge for all thing's village related!
It has been a difficult 5 years for Mark and Gill since they were advised that the 'Rural Subsidy' for Post Offices was being removed and that the sorting office would be going and the only future for a Post Office in the village was as a franchisee at approx. &pound:8,500 per annum. With no way of being able to make sufficient income from the shop, they could not apply for the franchise and did not want to leave the village without a post office, so decided to stay open until a franchisee was found. Little did they know it would take so many years, which has taken its toll. Gill has been working at Squires in the office for a few years and covering for Mark at the Post Office on his day off. Gill will be continuing to work at Squires and is sad to cease being "Gill from the Post Office" but is grateful for all the friends she has made during the 24 years serving them.
There are still cards and other stock in the shop which Gill will continue to sell on a part-time basis or by request.
There may even be the prospect of writing her memoirs 'A tale from a Rural Post Office'! Mark is going to set up a small gardening business. They will still remain living at Wits End (formerly known as the Post Office).
I am sure you will join me in thanking Mark and Gill for their (33)/24 years of service and wish them well for the future, including perhaps a holiday together for the first time in 24 years!
Every story has to end but in life every end is a new beginning – so we also wish Monika and Amit every success with the Post Office franchise at Roberts Stores.
Valissa Burnett.