Home Music Contacts Archive Whats on Report on the Event Down Page

Chiddingfold Neighbourhood Plan – Public Consultation
Friday 27 January 4pm-9pm & Saturday 28 January 10am-5pm in the Village Hall
Next Consultations - Thursday 18th May and Friday 23rd & Saturday 24th June.
The next stage of public consultation on the detail of our Neighbourhood Plan will take place over two days in January in the Village Hall
and we hope as many of you as possible will come to give us your views on a range of issues including possible sites for new housing.
What is a Neighbourhood Plan? To remind you, these are relatively new planning documents which were introduced by the Localism Act which came into force in April 2012. They are intended to give local communities a greater say in guiding the future development and growth of an area and relate to the use and development of land and associated social, economic and environmental issues (such as housing, transport, heritage and employment). Neighbourhood plans must however, conform to the National Planning Policy Framework (2012) and the emerging Waverley Borough Council (WBC) Local Plan, Part 1 of which was published in 2016. They cannot be used to resist appropriate development. Our Neighbourhood Plan will cover the period 2013-2032 and we aim to complete it by the end of 2017.
Why are we writing a Neighbourhood Plan? Once finished, the plan will be examined by a planning inspector and will then be subject to a parish referendum. It will require a "Yes" vote of more than 50%, but once it comes into force it will have statutory status and therefore carry much more weight with the planning authority, WBC, which must take it into account in determining planning applications. In addition, Chiddingfold will receive 25% of all Community Infrastructure Levy (CIL) payments in the parish rather than the 15% payable without a plan. The Community Infrastructure Levy is a planning charge which came into force in 2010 as a tool for local authorities in England and Wales to help deliver infrastructure to support the development of their area.

What has happened so far? Since the Parish Council decided to start the process of developing a Neighbourhood Plan several volunteers have spent time considering the issues of importance to the village and consulting with residents at a number of different events. All the ideas and feedback have been collated into a report by our consultants (Nexus Planning) and will be on show in January, together with potential sites for new housing. The WBC Local Plan requires that 100 new homes are built in Chiddingfold within the plan period (2013-2032) and this is your chance to have a say over where they can go. Please make every effort to attend this event which is so important for the future of our village. We want as many people as possible to come, including children and young people as there will be a special section devoted to their needs. A reminder of the date – 27/28 January in the Village Hall.

Christine Tebbot
Chiddingfold Neighbourhood Plan Steering Group
---
On the Day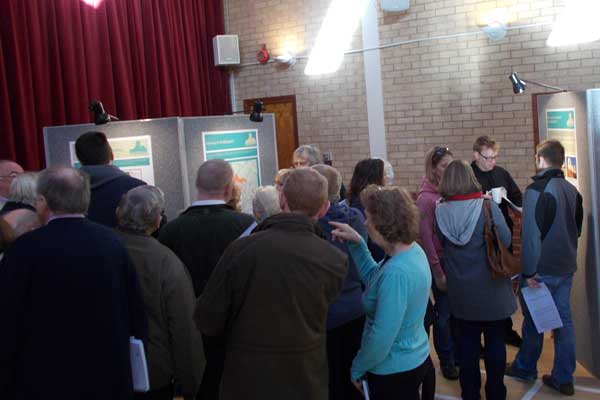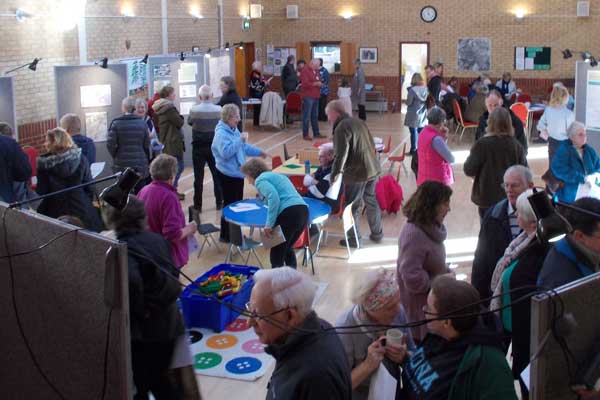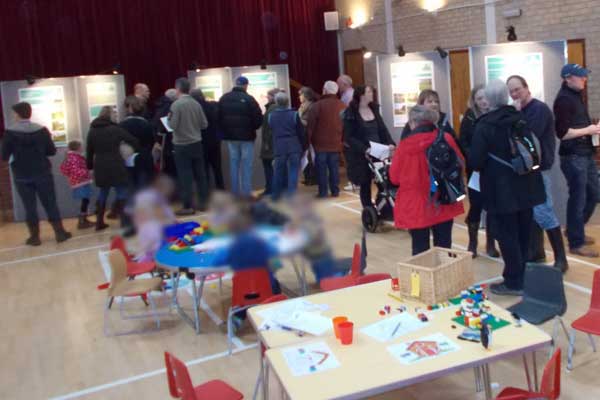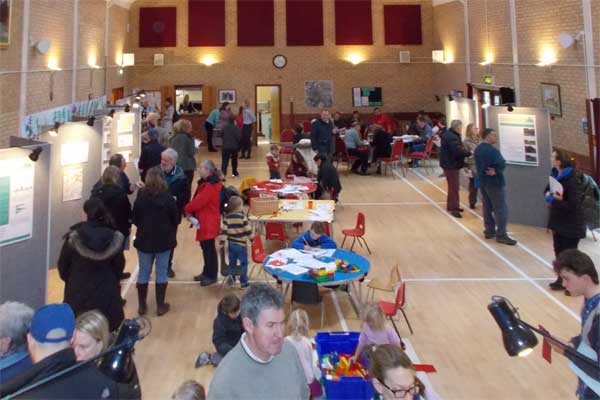 ---
Report
On Friday 27th 135 adults attended, on Saturday 28th, 414 adults and 91 children. Our target of 500 adults was achieved, and analysis of the responses shows a good geographic spread right across the parish. Analysis of the questionnaires is well underway. The Clerk prepared a spreadsheet for data entry and organised additional help to complete this. Nexus are handling the data entry for the SurveyMonkey questionnaire and will produce the consultation report. Sue will provide a summary of results so far at the meeting. We will not have a formal cut off date but add in the data from any late entries as they come in. Anecdotal feedback from residents has been very positive and many spent a long time studying the boards and considering their response. The open ended questions have been recorded verbatim so that councillors will be able to read the full sense of what has been written.
Call for Sites
As part of the formal Neighbourhood Plan process we are required to undertake a "Call for Sites" and this is well underway. A copy of the form and accompanying letter is attached. These have been sent to all interested parties identified so far Downloadable Form PDF 60kb
Empty Homes Policy
The Steering Group has in mind to write an Empty Homes Policy into the plan, but in the meantime I have been in contact with the WBC officer responsible for this area, Simon Brisk, the Private Sector Housing Manager. It is clear from his correspondence that WBC do not consider this to be an issue of concern in the Borough and will not pursue any course of action without prompting from us.
Next Steps
Upon completion of the Call for Sites and the WBC work, we need to assess the potential housing sites against a range of criteria and develop options for development. Criteria (yet to be agreed) will include the feedback from the recent consultation as well as other, more technical aspects, for example, we will need to consult the Highways Authority on access to sites. Other topics Following the consultation more volunteers have come forward and in particular we have more offers of help with the business section, which are being followed up. An interview was arranged with Steve Forward of Hoppa and notes of this will be circulated.
Next Consultation Event
In the Nexus plan we are due for a further consultation event which should take place in the Spring. However, there is no availability at the village hall until June at the earliest, so we are consulting with Nexus on the timeline and workplan for the next few months and will update you as soon as we have more news.
C. Tebbot
9 February 2017