Chiddingfoldnews July 27, 2011 Home Music Contacts Archive Whats-on
---
July 11, 2011
Hindhead Care Home Topping Out Ceremony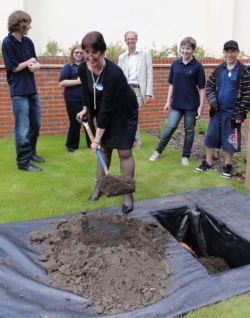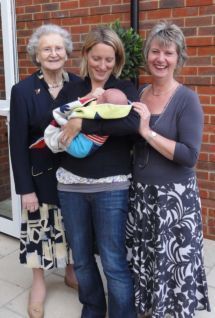 VIPS, future residents, a local school and the construction team joined staff at Moorlands Lodge to celebrate the addition of the final roof beam at the new care home.
The event, known as a topping out ceremony, was held on Wednesday, July 6 at the former Expedier House site, which will be a Signature care home from October.
The company invited all residents who had already reserved a room, and they were honoured for their early involvement by having their initials added to a specially embossed finial – a lead decoration placed on the final turret. Signature CEO Tom Newell presented each resident with a photograph of the finial as a keepsake.
And as well as VIPs and future residents, the care home also invited pupils from the neighbouring Stepping Stones school. The pupils marked the event by helping bury a time capsule – which contained items that symbolise school life – in the grounds of the care home.
Moorlands Lodge General Manager Creenagh Williamson said: "Today is very special for a number of reasons, not least as it marks the first of many events that Moorlands Lodge and Stepping Stones will collaborate on, promoting inter-generational friendship."
Stepping Stones head teacher Neil Clark added: "When the children meet and talk to people who have actually lived through the events of the past years, history really comes alive for them."
There are a number of events planned at Moorlands Lodge over the next few months, to which members of the community are warmly invited. Details can be found at www.signature-care-homes.co.uk/moorlands-lodge or by liking Signature Moorlands Lodge on Facebook.

PHOTOS:
Left Photo – l-r Joe Shaw, Amie Humphries, Creenagh Williamson, Neil Clark, Jessica Butler and Ryan Shore.
Right Photo – l-r Nancy Kay, her grand-daughter with great-grandson Felix, and daughter Judy Rix (NO NAME FOR NANCY"S GRAND-DAUGHTER)