July 28, 2019
Home Archive Music Contacts Whats-on Tipteerers
BECAUSE WE CARE' Community Fun Weekend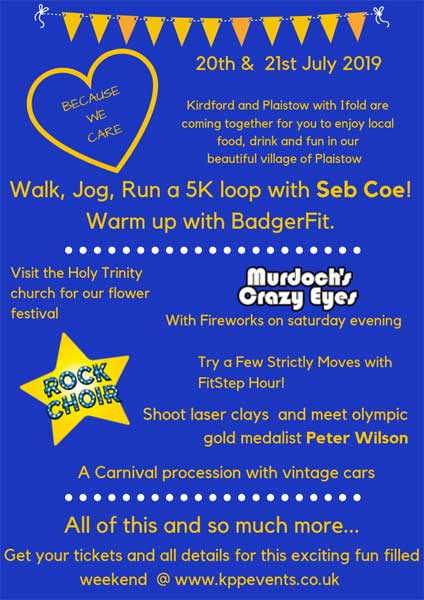 The parish villages of Kirdford, Plaistow and Ifold are coming together to bring you a fabulous fun weekend to enjoy in the beautiful village of Plaistow. Saturday 20th & Sunday 21st July
For information, tickets and how to enter the Fun Run visit our website: www.kppevents.co.uk
5k Fun Run, Walk or Jog with Sebastian Coe! Plus a warm up session with BadgerFit
A Carnival Procession with Vintage Car Display
Visit Holy Trinity Church for our Flower Festival
Try a few Strictly Moves with Fitstep Hour
Hear the fabulous Rock Choir
Watch and join in with the Dewbys Mini Bell Ringers
Shoot laser clays and meet Olympic Gold Medalist Peter Wilson
Murdoch's Crazy Eyes Band with Fireworks on Saturday evening Facebook Page
Local Food & Drink, Stalls, Stands and much more….
We are very blessed in our Villages to retain our sense of caring communities; and both our Parish Councils have worked hard to present Neighbourhood Plans which set out the future flourishing of our communities, and our churches are part of that flourishing.
Plaistow Village is in need of a loo accessible to the public. As Holy Trinity church is open every day, this would be the most obvious place to put it, and of course it would be invaluable to the worshippers too! So this vital project looks to reordering the interior whilst maintaining the history of the building and the 'family story' of the church, and looks to the future of how the building can continue to play its part in our community for many generations to come.
Our greater vision though is to open up the space in the whole nave so that it becomes a more flexible area. This would become a much-needed space for community events such as Art Exhibitions and concerts etc. Our village School which is adjacent to the church is coming under increasing pressure with the projected building of some seventy new homes in the Parish, and they could also make use of this space as an additional 'break-out' area whenever it was required. As a community we could also look to invite and host small groups of youngsters from inner-cities who have never really seen the night sky or a 'live' cow before to come and enjoy a short break here in our beautiful countryside. And of course, the reordering would be invaluable to the life of the church. The possibilities are endless.
Our Parish stretches from Shillinglee to Durfold Wood to Plaistow to Ifold to Staples Hill to Kirdford to Strood Green to Hawkhurst Court – one very big Parish. The reordering of Holy Trinity is therefore just part of our 'greater vision'.
Kirdford Parish Council also work hard to better our environment, and they are currently raising funds to install play equipment on Butts Common, and to carry out much needed work on the Recreation Ground in Kirdford, and we want to contribute to this work.
Wow – that is a big vision!
But rightly so as it is a vision for the future flourishing of our Parish community, which is why we are hosting the community event 'Because we care…'
'Because we care…' will be a fun weekend of events for all the community – from a 5K fun-run, to concerts, to competitions, and a carnival – with a few well-known celebrities joining in the fun too. Something for the whole family. The focus will be on us having a great community time together, and yes, we hope and pray it will raise some funds towards the 'greater vision'.
Press release from Kirdford and Plaistow Parish Event received Sat 27/04/2019 00:57 and their website
---
Sunday 21st
9.00 am Holy Communion at Holy Trinity Church
10.00 am – 5.00 pm Flower Festival
10.00am - 5pm Visit Winterton Hall and enjoy the Historical display of the Parish.
10.00 am - 6.00 pm F1 McLaren Simulator
11.00 am Carnival and Vintage Car Parade /
Floats – Assemble in Rickmans Lane from 10.00
Cars – Assemble at Kelsey Hall from 10.00
and tour Ifold before joining the Parade.
TEMPORARY ROAD CLOSURE:
Rickmans Lane closed to through traffic between 9.00 am and 10.30 - Residents access only.
TEMPORARY Full Closure - Rickmans Lane, The Street, from 10.30 – till parade passes.
11.00 am - 5.00 pm Laser Clay Shooting with Gold medallist and World Record holder Peter Wilson MBE. No booking required, 'Pay as you go'
ROAD CLOSURES (with Residents access)
Loxwood Road between the Church and the Village Store will be closed all weekend.