ChiddingfoldNews Febuary 2 , 2013 Home Music Contacts Archive

RN Crew Move Onboard the First Repropulsioned Hunt Class MCMV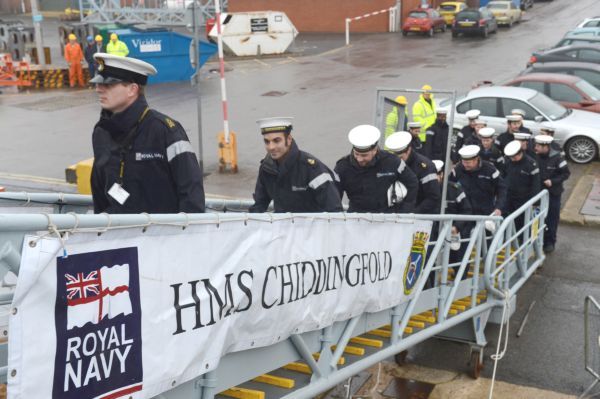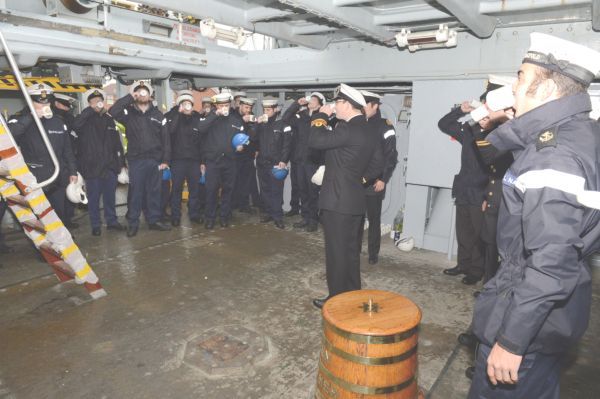 Rum tot marking the Queen's Diamond Jubilee year. After a symbolic raising of the ensign and jack for the first time since HMS Chiddingfold went into dry-dock last year, Crew 5 marched onboard on Friday 26th October to mark the day when the first Caterpillar-powered Hunt Class Mine Countermeasures Vessel (MCMV) was fully united with her Ship's Company.

Crew 5 brought Chid back from the Arabian Gulf last August where the Ship had been deployed for 3 and a half years. They have been working hard alongside BAe since getting back to the UK to transform their Ship, but with much of Chid a building site they have been accommodated elsewhere until today, the move back onboard marking a new chapter in the evolution of the Hunt Class.

After marching onboard the Crew formed up for a photo to mark the transition to life onboard and received their Rum tot marking the Queen's Diamond Jubilee year. The tot had been delayed to allow the Crew to take it onboard their Ship, with the measures carefully doled out by recently promoted Leading Chef Stokes-Lilley.

Chid has spent the past year in her home port of Portsmouth as part of a mid-life update project. The main focus of this has been to fit her with new Caterpillar C32 Advanced Combustion Emission Reducing Technology (ACERT) diesel engines to replace her old Napier Deltics. She has also received upgrades to her machinery monitoring systems, computer systems and had obsolete equipment removed, alongside a general spruce up.

All eight of the RN Hunt-class MCMVs will be upgraded over the next few years. This will significantly extend their operational lives, improving their efficiency, reliability and cutting their emissions, maintaining the RN's position in the forefront of Mine Warfare Operations.

HMS Chiddingfold's Commanding Officer, Lieutenant Commander Richard Rees said: "We have eagerly watched the Ship come back together over the last few weeks and a lot of work has gone into making sure Chid was ready to receive us onboard. We can now continue making the Ship our own and regenerate as the first Hunt to undergo this process.'
Leading Chef Mark Stokes-Lilley (26) said: 'Bringing the galley back to life so that we can live onboard has been hard work and my team and I now need to make sure we keep the Crew's Stomachs happy!'

The 45-strong Ship's Company working with BAE and Finnings will now continue with trials on the new systems before Chid goes back to sea.


Press Relase recived from Steve Saywell Fleet Picture Manager Fleet Photographic Unit Whale Island Portsmouth October 31, 2012