Chiddingfoldnews October 2 2009 Home Music Contacts Archive Whats-on
Chiddingfold Horticual Society
Summer Show Report
Saturday 20 June 2009
On Saturday 20 June the Village Hall was transformed between 7 am and 10 am into a 'Bower of Flowers' together with various vegetables and fruits. There were 7 large totem poles, decorated wellingtons and paintings produced by children as well as photographs, cooking exhibits and handicrafts.

One of the committee members, John Marshall, won 7 first prizes for his magnificent sweet peas and received the Charles Watts Trophy, the Sweet Pea Challenge Bowl and a Worshipful Company of Gardeners Diploma. The rose prizes went to Felicity Evers [Lovell Haslam Cup], Sue Simper [George Hawkes Trophy], Jo Lavis [Nathan Cup] and Jenny Smart [Jack Whale Trophy]. Sue Hill won the Herbert Booker Trophy for pansies and Beryl Smith the Rockwood Plate for her pot plant. In the Floral Art section Pat Freemantle received the Thomas Butler Challenge Cup, Sue Hill the Sadler Cup, Jo Hammond the WCG Floral Art Certificate and Rita Stephens the Wildflower Trophy.

Other winners included Anne Sheppard with the WCG Award as the most successful novice and Sheila Rapley, our Chairman, gained the RHS Banksian Medal for the most points in the Show as well as the Stonehurst Cup for the best exhibit of flowers and also a WCG Company of Gardeners Diploma.

The next event is the Autumn Show to be held on Saturday 5 September in the Village Hall.
Robert Walker
---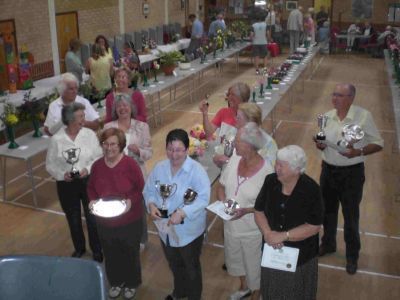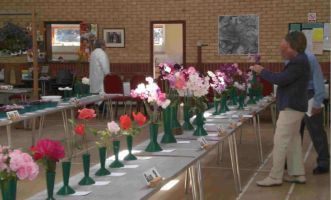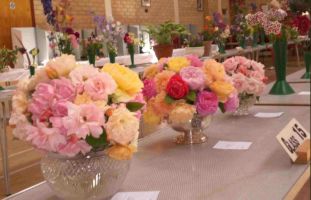 ---